Car booster seats to avoid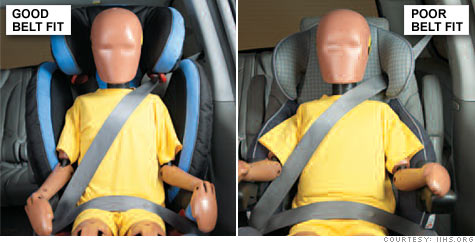 NEW YORK (CNNMoney.com) -- The good news is that booster seats are getting safer. The bad news is that there are still some seats out there that may not protect your child in a crash, a report released Wednesday showed.
Because seatbelts are typically designed for adults, booster seats are meant to lift children so that lap belts fit flat across their upper thighs and shoulder belts hit mid-shoulder, according to the Insurance Institute for Highway Safety.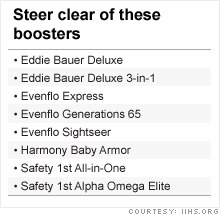 Out of the 72 boosters evaluated, 21 were recommended as "best bets" because safety belts fit well across most vehicles, while seven models were "good bets" and eight were not recommended. This was the first time top performers outnumbered the worst performers, with only nine boosters rated as "best bets" last year.
The eight models that failed the institute's evaluations were Eddie Bauer's Deluxe and Deluxe 3-in-1, Evenflo's Express, Generation 65 and Sightseer, Safety 1st's All-in-One and Alpha Omega Elite and Harmony's Baby Armor.
Engineers found that these boosters provided poor belt fit, meaning that the lap belt came too high on a child's stomach or the shoulder belt hit too close to a child's neck or fell off the shoulder.
"If the booster isn't doing a good job -- if the lap belt is up on your son or daughter's tummy or if the shoulder belt is falling off your child's shoulder -- then find a replacement booster seat as soon as practical," said Anne McCartt, Institute senior vice president for research.
"Best bets" included Chicco's Keyfit Strada and Graco's TurboBooster Crawford. While one of its boosters failed the test, Harmony Juvenile Products boasts five "best bet" booster seats, more than any other manufacturer.
Among the "good bets" were Combi's Kobuk Air Thru, Britax's Parkway SG and Maxi-Cosi's Rodi.
Booster seat manufacturer Dorel Juvenile Group, which makes Eddie Bauer and Safety 1st seats, pointed out in a company statement that five of its seats were rated "good" or "best bets" by the institute, although four were listed as "not recommended."
"We evaluate and continue to evolve current products to enhance their performance with new technologies and designs that reflect our leadership in child passenger safety," Dorel said in its statement.
The manufacturers of Evenflo and Harmony booster seats did not immediately respond to a request for comment. Both of those manufacturers had seats listed among the "best bets" as well as among the "not recommended" seats.
Thirty-six boosters fell between "not recommended" and "good bets," because the safety belts didn't consistently fit well when they were tested in a variety of vehicles.
"Unlike the top performers, consumers can't assume boosters in the in-between group will work in every family vehicle," said McCartt. "Some may be fine, but parents still need to try them out to see if the lap and shoulder belts fit their kids correctly."
To gauge booster safety, engineers placed a crash test dummy the size of an average 6-year old into each seat and measured the fit of the safety belts. Booster seats are designed for children ages four through eight.
For a full list of booster seats and ratings, visit: http://www.iihs.org/news/rss/pr090810.html