Why the Gates Foundation aims to knock out polio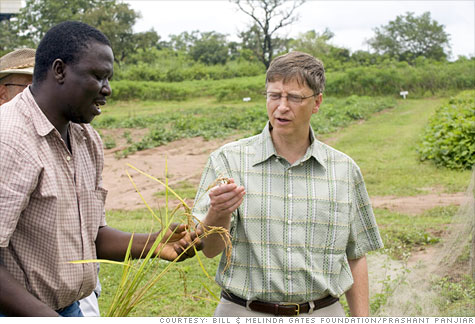 FORTUNE -- Jeff Raikes worked with Bill Gates at Microsoft, most recently as president of the business division, for almost 29 years before joining the Bill & Melinda Gates Foundation as CEO in 2008. The last two years, he's worked building relationships with partners of the $33 billion foundation.
Today, Raikes is announcing what he calls his most important project in a letter outlining the organization's plan to completely eradicate polio. The disease is only endemic in four countries. With more funding, he says, it could be wiped out for good. The letter says, "It's very clear: This is make-or-break time for polio eradication. Increasing awareness will help generate the funding and political commitment needed to finish the job."
He told Fortune about why the project makes financial sense, how Microsoft prepared him for philanthropic work, and parenting advice from Warren Buffett.
Why polio? People don't typically think of it as a globally devastating disease.
Because of the investment of the United States, we've been able to prevent one million cases of polio and save more than $180 billion dollars. Think of how much money could be saved in the future from not having to treat or vaccinate kids for polio. We estimate that eradicating polio will cost about $2.6 billion from 2010 to 2012. If we can achieve this big ambitious goal, the dollars saved and the lives improved will be huge.
The highest priority is the opportunity to eradicate polio. You not only lesson the burden associated with polio, but you also build the global health vaccine delivery systems that can really make a huge difference on a wide range of infections.
For polio, you already have the technology to vaccinate against it. How do you get companies to make brand new vaccines for patients in the developing world who can't afford to pay for them?
We design grants to help encourage pharma companies to make those kinds of treatments. One example is malaria. We've invested quite a bit with GlaxoSmithKline (GSK) working on a malaria vaccine that has shown efficacy for children under five. We used our philanthropic dollars to create incentive for a private sector vaccine.
You mentioned in a recent letter that the foundation received some criticism from grantees because it wasn't being transparent enough. Why has transparency been difficult?
I wouldn't say that it's been difficult. We've grown quite rapidly over the last few years, and given the extent of our growth, it's important that we put in place stronger communications.
How do you do that?
We want to make sure that the grantees have a clear point of contact, understand our process of grant making and get responses from us. Those things help them do their best work, which is the key. They are also indicative of building stronger partnerships, which is something that I bring from my past background.
Do you have to deal differently with transparency at the foundation that you did at Microsoft (MSFT, Fortune 500)?
Transparency is a very important element of our work. It's an example of some of the differences from industry. Where in industry you're trying to protect proprietary strategies. What we're trying to do is work with a wide range of partners in a transparent way to make sure our strategies are the best they can be for delivering sustainable impact.
How does your background at Microsoft translate to a philanthropic organization?
I can draw upon my experience in leading business organizations to really make sure that we are focused in on high impact philanthropy. We chose the areas of global health, global development, and us education because these are the areas that we feel like have the most potential for leveraged impact.
Did the foundation change when Bill came on full time in 2008?
I would say probably the biggest change has been an increase in Bill and Melinda using their voice to shine a spotlight on the key areas where we can make a difference in the world, like polio eradication.
You and your wife run your own separate philanthropic organization, right?
Yes. In the early part of the 2000s, Tricia and I created the Raikes Foundation. It focuses on helping youth transition from adolescence into being healthy, productive adults. We think that's an under-resourced area, and we think there are some key interventions that need to be put in place.
Why did you start it?
Part of the decision came from a private discussion with Warren [Buffett] about his thinking on his wealth and philanthropy. Warren said to Tricia and I, back in the '90s when our children were very young, that you want your kid to have enough wealth that they can do anything but not so much wealth that they can do nothing. And that's something that resonated with us. So we let our kids know that the significant majority of our wealth will go back to society, and we want to help them achieve their potential. But they've got to find their path in life.