Dollar remains 'stuck' on uncertain outlook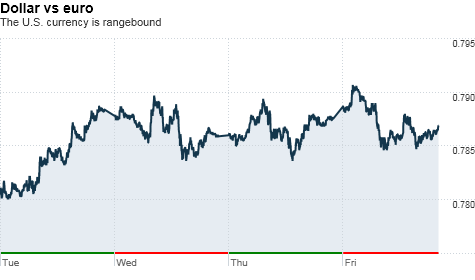 NEW YORK (CNNMoney.com) -- The dollar drifted lower against the euro this week, but held its own against the Japanese yen, as investors remain wary about the outlook for the global economy.
Concerns about the health of European banks boosted the dollar early in the week. But the currency settled in to a narrow range later on as investors had few economic reports to set the tone.
"The U.S. dollar has been stuck in somewhat of a range since early August, lacking a catalyst to push it decisively in either direction," Camilla Sutton, a currency strategist at Scotia Capital, wrote in a research report.
Many investors view the U.S. dollar as a safer alternative to currencies such as the euro and the Canadian dollar, which are more sensitive to economic growth. As a result, the dollar tends to rise when economic conditions are uncertain and fall when the outlook brightens.
A snapshot of regional economic conditions across the 12 regions in the Federal Reserve system underscored the cloudy outlook for U.S. growth on Wednesday.
The economy grew at a sluggish pace during the summer months, but there are now "widespread signs" that activity is slowing, according to the Fed's Beige Book.
Ben Bernanke, the Fed chairman, signaled last month that the central bank is willing to apply additional "unconventional measures" to boost the economy if the outlook were to "deteriorate significantly."
Given a consensus in the market that the Fed will continue to do what is necessary to support the economy, Sutton said she expects the dollar to remain weak as investors gravitate towards higher yielding currencies.
Meanwhile, investors continued to flock to the Japanese yen this week. The yen, which is also seen as a safe haven, rose to a fresh 15-year high against the dollar earlier this week on jitters about Europe's financial institutions.
But the dollar rose against the yen Friday after Japanese officials signaled that the government is willing to intervene in the currency market to halt the yen's meteoric rise.
A stronger yen is a major concern for Japan's export driven economy, since it undermines profits for companies that do business overseas and gives rivals an advantage.