CEO support of Obama: The lone voice from Allstate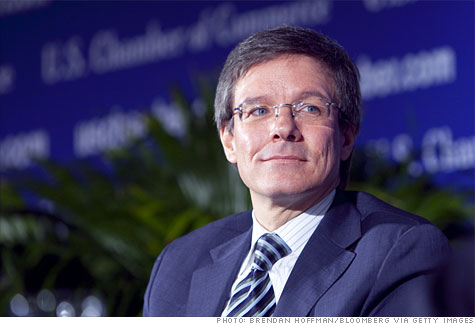 FORTUNE -- Allstate CEO Tom Wilson is a rare breed: a corporate executive who hasn't soured on the Obama administration. After a summer of increasingly loud complaints from business leaders that the White House is hostile to private enterprise, Wilson is calling for a cease-fire.
A Chicago native and early Obama supporter, Wilson went to Washington, DC, last week to present the findings of the latest in a series of quarterly polls the insurance giant is cosponsoring to track American economic attitudes. The survey -- officially the Allstate/National Journal Heartland Monitor poll -- painted a dark picture of the impact the recession is having on the public outlook.
Seventy percent of respondents said they have a relative or close friend who has lost a job since the downturn. And with the recovery faltering, 55% believe the economy will improve over the next year -- down from 70% three months ago -- while only 8% see significant improvement coming. Despite a growing sense that the Obama administration's efforts to prop up the economy have fallen short, the poll found Americans want action on jobs, with 61% saying the government should play an active role.
Wilson sat down with Fortune to discuss how we got here, and what should happen next.
What jumps out at you from the poll?
The increasing level of pessimism or lack of confidence in our economy, our institutions and our leaders is disturbing to me, for a couple reasons. One is I think that's what a market economy is based on -- a belief that the system works. And if you don't have that kind of confidence, our free market can't work. Secondly, the longer it stays up there, the more entrenched it gets in people's philosophies and behavior.
I'm optimistic that consumers and people in the United States know a lot more about economics now than they did four years ago -- that's a good thing. And I think what they're saying in this poll is, 'Look, make some compromises. You know, way too many leaders are ideologues or they're doing it only for their own self-interest, and you need to make some compromises.'
What do you conclude from that?
One is that consumers could and should be encouraged to save more, which means that I don't think any economic stimulus should be based on consumer spending. I think it's a bad idea. Second, I think it's all about jobs. What we need is a stimulus program that's focused on jobs. And that's what they're telling us: It's okay to spend money, but just do it on jobs, don't do it on this other stuff. And so I think business and government need to come together.
What does that stimulus look like?
I don't think the Bush tax cuts are going to have any impact on consumer spending on the economy, if you leave them in place. If you cut them out, then you could potentially have another down-draft in consumer spending, because I think what consumers are saying is, 'I'm going to save more money.'
Whatever is done [with the tax cuts] needs to be put in context with whatever else is done, and I would do some other things. I like the payroll tax holiday -- I think that will accelerate some jobs but I don't think it will add permanent jobs in the United States. I like the idea of the accelerated deductions on equipment investing, but I think given that we're a service economy, that's going to have limited impact. But I would do it, because every job counts. I would invest more money in training, and I would give money to companies to help them train new employees.
The fourth thing I would do -- which I haven't heard anybody talk about yet -- is I would accelerate the ability to expense real estate build-outs that are done for new employees, because not everybody's a manufacturer. Look at us: Allstate (ALL, Fortune 500) built a call center in San Antonio.
There was a lot of sniping this summer between CEOs and the administration, with CEOs saying Obama is bad for business, pointing to the rhetoric in part but also the substance of what they've pursued. Do you think this administration is bad for business?
I think we all got here together, and I think we're all at fault. I've said this about our company, our behavior, what we've done. I think it's true for the government, I think it's true for other companies. And I think we haven't found a way to come together.
Businesses clearly screwed up. I mean, I'm part of the financial industry -- a member of the [Financial Services Roundtable], the Financial Services Forum, and I'm on the board of the Chicago Fed. We screwed up! The government screwed up. And consumers screwed up. You know, hey, buying a $750,000 house when you make $50,000 a year might not be such a good idea, and people knew that, but they were like, 'What the hell? Maybe I'll get rich.'
And so we all did it together. Right now, the problem that I perceive between the administration and business is there needs to be a better relationship, and I don't think anybody would disagree with that.
What I've tried to explain to the administration is that it's sort of like the theory of parenting, that every time you say something negative to your kid, they tell you you're supposed to say 10 positive things. I think what happens is the administration says one positive thing and one negative thing, and business hears the negative thing like 10 times over.
You supported Obama?
Yes. I voted for Obama, was a supporter of Obama.
Are you still?
Yes.
How do you rate how he's done?
First, I would say that he was dealt a hand nobody thought he was dealt. And I think he's done a good job of trying to move through economic legislation. I think where they missed it is in the running game. And the running game is jobs and the economy. And I think the economic team has not been able to coalesce business and government to add jobs now.
Should the president get some new faces on his economic team?
Only he can decide that. I would say that he has really bright people. There's no doubt in my mind that [Treasury Secretary Tim] Geithner and [National Economic Council director Larry] Summers are really smart people. I think the challenge is on that team is they don't really have a relationship person.
That's also been a pretty consistent critique from executives -- that there's no one with real executive experience.
I think that's right. I think it was a hiring mistake for the administration.
Do you think a Republican takeover of Congress might be sobering for policymakers and lead them to seek the kind of bipartisanship that you think has been missing?
My concern is that with a big Republican win, they're going to be more intransigent on their point of view, and they won't be able to get the Democrats to come along with them, so we're just going to have more fights. That's not what people are asking for.
Should the White House convene a summit with business leaders?
I think a summit would be a good idea. I'd spend less time on the G20 and more time on the US100. I think you need something symbolic. You need to come to that party willing to give them something, and I think the administration would be willing to do that.
Have you seen evidence that the White House is working on its relationship with business?
Three or four weeks ago, I attended a dinner in Chicago with two administration officials and eight CEOs, off the record, totally open, people expressing their points of view. [The administration officials were] honest, up-front, no bullshit. They get it. I don't know if they know how to execute it -- and it's hard to execute it while you're flying the plane.