Car Czar on GM's revolving CEO door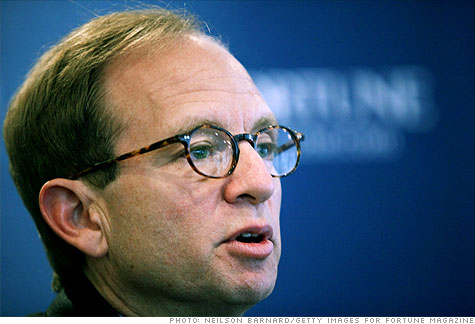 FORTUNE -- As General Motors welcomes its fourth CEO in 18 months, a frequently-asked question is "Why can't somebody be found who can run GM?"
The answer is, they've tried, and it is harder than you think.
A new book by Steven Rattner, who led the Treasury Department's auto task force, sheds a light on the difficulty of finding someone to manage the world's largest automaker.
Rattner is the man who fired Rick Wagoner and replaced him with Fritz Henderson, recruited Ed Whitacre to replace Wagoner as chairman and then Henderson as CEO, and then had a ringside seat when Whitacre abruptly resigned in August and was succeeded by GM director Dan Akerson.
At every one of these junctures, Rattner, representing the U.S. government which is GM's largest shareholder, was challenged to find outside candidates. Even after enlisting the aid of Jack Welch and ace headhunter John Neff, he had a hard time coming up with names.
Rattner writes that he did offer the job to one Midwestern industrialist, who turned it down, and sounded out Renault-Nissan CEO Carlos Ghosn as well. Ghosn was interested in sweeping GM into his two-continent alliance but didn't want to be CEO of GM alone.
Rattner's insightful, gossipy tale of restructuring GM and Chrysler, OVERHAUL: An Insider's Account of the Obama Administration's Rescue of the Auto Industry, will be published October 14, by Houghton Mifflin Harcourt.
Finding the right person to run GM preoccupied him during all of his six-month Washington stay. Rattner quickly decided that Wagoner's record of multi-billion-dollar losses disqualified him from continuing as CEO. Besides, he found him too aloof, too insular, and too lacking in urgency to fix GM.
Henderson, GM's president, was the default choice, though Rattner was ambivalent about him. As a GM lifer, Henderson hardly represented fresh blood, but Rattner figured that recruiting a top outside candidate would be difficult and time-consuming. Henderson, he writes, "had been the only responsible choice available to us."
He intended to make Henderson only a temporary CEO but Henderson demanded that the word "interim" not be used as part of his title, and he prevailed. But Henderson too, was slow to make changes, and Rattner felt that he was more of a chief operating officer than a CEO.
Finding a strong chairman to back Henderson up was difficult, according to Rattner. Despite calls to Welch and Neff, he had a hard time identifying "distinguished former CEOs who were still young enough to serve for at least five years." He finally approached Whitacre, who turned him down several before accepting the job in July 2009.
Soon afterward, Rattner turned headhunter again to find someone to replace Henderson as CEO. Since there were no potential successors anywhere on the executive team, he looked to the board of directors.
Analyst-turned-UAW board member-turned-vice-chairman Steve Girsky wanted the job but he was young -- 45 -- and had no management experience. Akerson according to Rattner, declined to be considered for the job. He didn't want to leave his private equity job at the Carlyle Group or move to Detroit.
By December 2009, Henderson was out as CEO, and Whitacre took the job on an interim basis. Neff's firm drew up a list of candidates to fill the job permanently, but it was a short one because the board only wanted former CEOs. Akerson turned the job down again.
But before a single candidate had been interviewed, Whitacre, 68, volunteered to take it full time. The board wanted Whitacre to stay for two years; he demurred but he agreed to remain long enough for an initial public offering to be completed.
Whitacre took an apartment in downtown Detroit (though he continued to commute to his Texas home on weekends), shook up the executive ranks, and disarmed employees with his folksiness and lack of pretence.
He seemed to be settling into the job, but Rattner writes that Whitacre surprised the board in early August by announcing he was quitting. "The directors were far from thrilled. Whitacre wasn't perfect -- he hated detail work and wasn't regarded as a genius -- but his decisiveness and emphasis on speed had been just what hidebound GM needed."
Once again, there wasn't an obvious successor in sight. "Several directors felt left in the lurch," Rattner writes. "GM had no internal candidates. With the IPO looming, there was no time to organize a search. Once again, the board would have to look among its members for a chief executive."
At the board meeting, three potential candidates were identified and asked to step out of the room. But Girsky lacked management chops and Patricia Russo, former head of Lucent, had a mixed record. That left Akerson. According to Rattner, "he had been kicking himself for letting the opportunity slip" twice before. He preferred being a CEO to a private equity guy.
Concludes Rattner: "As glad as I was to see Akerson step up, I shared the board's disappointment with Whitacre. He had promised to see GM through its initial public offering ... Instead he forced GM to scramble to appoint its fourth CEO in less than eighteen months."
Among Akerson's many challenges will be to develop a list of candidates to succeed himself. As history as shown, it isn't easy.