Cash-rich Cisco to start paying a dividend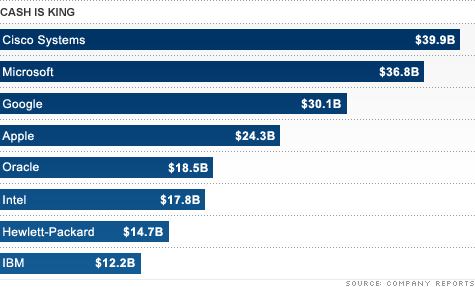 NEW YORK (CNNMoney.com) -- Cisco Systems Inc. said on Tuesday that it will begin to pay a dividend yielding between 1% and 2% in the current fiscal year, which ends in July 2011.
The networking giant made the announcement at its annual financial analysts' conference in San Jose, Calif. Shares of Cisco (CSCO, Fortune 500) rose 3% on the announcement.
Though the move isn't surprising, given CEO John Chambers' pledge in June to pay a dividend when the stock market regains strength, it's a break from Cisco's past policy. The company, which has never before paid a dividend, has previously stated that it believes acquisitions and investments make better use of its cash than dividends or stock buybacks.
But even as the company has made many large investments this past year, its cash stash continues to grow. Cisco is sitting on $39.8 billion of cash, according to its latest quarterly filing to the Securities and Exchange Commission.
That's the largest cash pile in the tech industry, and much bigger than that of many Cisco peers that pay dividends, including Microsoft (MSFT, Fortune 500), Oracle (ORCL, Fortune 500), Intel (INTC, Fortune 500), Hewlett-Packard (HPQ, Fortune 500) and IBM (IBM, Fortune 500).
The company's decision leaves Google (GOOG, Fortune 500) and Apple (AAPL, Fortune 500) as the biggest tech cash hoarders that do not pay a dividend.
Some companies feel that there is a negative stigma associated with paying a dividend -- it calls up images of an entrenched, slow-to-grow behemoth. But that's hardly the case with Cisco, which Wall Street expects to grow its revenue and profit by double digits this year and next.
Cisco didn't say exactly how much it planned to pay per share. Based on the current stock price and Chambers' target for a yield, the dividend would be between 5 cents and 11 cents per share per quarter, but that's likely to change as the stock price moves up or down.