Intel CEO: Stimulus didn't work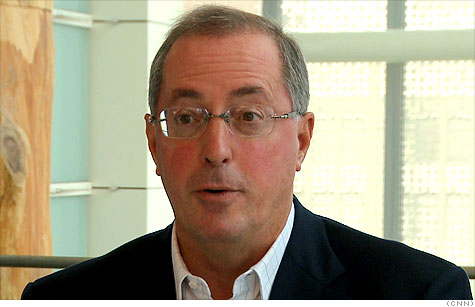 SAN FRANCISCO (CNNMoney.com) -- Intel chief executive officer Paul Otellini said the Obama administration needs to do a lot more to help create jobs and get the economy back on track.
In an exclusive -- and very candid -- interview with CNNMoney.com, Otellini said politicians simply don't get it when it comes to key economic issues.
"The decisions so far have not resulted in either job growth or increased confidence. When what you're doing isn't working you rethink it and I think we need to rethink some plans," he said at the Intel Developers Forum in San Francisco.
Otellini credited the White House for listening to him and other business leaders. "I really think they're trying," he said, adding that he doesn't think there is anti-business sentiment from the administration.
But Otellini said the $787 billion economic stimulus package passed last year has not done enough to solve problems in the job market. He argued that money not yet spent from that program might be better off allocated elsewhere and took the administration to task for focusing on short-term projects.
"It doesn't seem to be working the way it is. Swimming pools in Mississippi are not going to create lasting jobs."
Otellini is also one of the first Fortune 500 CEOs to speak publicly about President Obama's newly proposed $350 billion economic recovery plan. He said that proposal, which includes tax breaks for businesses and research and development incentives, is not the right plan either.
The way Otellini sees it, Washington must decide what the industries of the future are. "We still subsidize trains and agriculture -- industries of the 19th century. We should decide what's important to us going forward and make sure we've got the education system in place and the capital incentive system in place to do the investment here."
Otellini also said that a major problem for companies is that they are being held back by high corporate tax rates.
Otellini says it costs Intel (INTC, Fortune 500) $1 billion more to build a factory in the U.S. than abroad because of a lack of U.S. tax incentives. The company has a multi-billion dollar factory slated to open in China this October.
"You have to weigh the advantages of working here, the security of working here in this country...against that billion dollars."
Otellini questioned why global business leaders would want to do business in the U.S. due to the cost, saying it is critical to incentivize foreign countries to invest in America. "Our corporate taxes are twice what they are in the rest of the world. You want corporations to invest here."
Intel is on pace for what Otellini predicts could be the company's best year ever but said other businesses are not so lucky. "A lot of companies are sitting on the sidelines right now," he said, due mainly to a lack of clarity about taxes and regulation.
"Take the uncertainly out. Businesses can't invest until they have fewer variables and right now there are just too many variables," he said.