Akerson's first presser: smooth as an automatic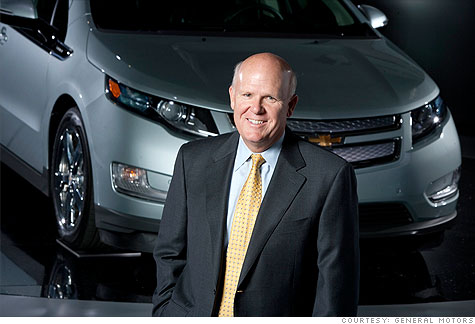 FORTUNE -- Dan Akerson, General Motors's fourth chief executive in 18 months, is quickly grasping that his role as spokesperson of an enterprise majority-owned by the U.S. is sensitive, closely watched and susceptible to verbal stumbles. In his first press conference since taking office two weeks ago, he tip-toed around questions about GM's relations with the United Auto Workers union, pending income tax revisions in Washington, and whether he likes future GM vehicles he's inspected.
Will GM restore union pay and benefits relinquished as part of last year's bankruptcy? "I don't want to negotiate through you, I'd rather leave that to discussion with the union,'' he told a reporter.
Would GM's business benefit from extending Bush-era tax cuts? "I've got enough on my plate,'' he said. "What's good for America is good for GM, not vice versa. It will be what it's going to be.''
And the look of new Chevys, Cadillacs, Buicks and GMCs in development? "I'm like everyone else, I have a point of view,'' he said. He told stylists, "I like that one, that one doesn't ring my bell. The cars coming up in '12, '13 and '14 are really great.''
As to news leaks about meetings Akerson has conducted with the UAW and employee groups, he said "it's amazing how information does flow freely.''
He said he wants to change GM to "an attacking culture'' from one that has been defensive and reactive to trends in the auto industry. "The past is the past, I'm looking out the front windshield,'' he said. "We have to come to a common ground so we can give value in the future.''
A native of Minnesota, Akerson said that he and his family had driven GM cars exclusively until an "incident'' with a GM model (which he declined to identify) 20 years ago that caused him to switch. He's back, now driving a Cadillac CTS sedan he calls "the best sedan I've ever driven.'' His wife turned in her Lexus SUV, he said, and prefers the Cadillac SRX crossover she's now driving.
No TV spot for Akerson
Advertisers and media, recognizing that GM has spent more on advertising that any company on earth, may take heart after a period of prolonged weak ad sales, from the new CEO's assertion that "advertising is critical, I'd like to see a little more humor. Humor sells,'' he said. ''You can't take yourself too seriously.'' His predecessor, Ed Whitacre, appeared in a GM ad shortly after taking office, to mixed reviews. Akerson said "I don't think you'll ever see me in a television commercial.''
He does see great potential in GM's OnStar on-board communication system, which has been marketed mainly as a safety and security device. "There are plans in place for OnStar, mentioning social media now should give you just a crack in the door,'' he said. If successful, OnStar "could tip the advantage to us in a purchase decision. It's exciting, it's different.''
By the end of the year Akerson will take over from Whitacre as chairman of GM's board, in addition to his CEO role, perpetuating the debate among corporate governance experts as to whether management is improved or disadvantaged when both jobs are held by one executive. "I've seen both models work,'' he said, neatly skirting any controversies, both over that question, and really, over all of them at this morning's event.