Hurd: 'No company better positioned than Oracle'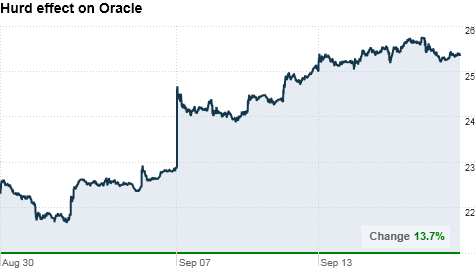 NEW YORK (CNNMoney.com) -- Mark Hurd, Oracle's new co-president, praised Oracle's strong first-quarter financial performance on Thursday and forecast a very bright future for his new employer.
"I see clear growth opportunities going forward," Hurd said on a conference call with analysts, one of his first public appearances on Oracle's behalf. "There is no other company in the industry better positioned than Oracle. There is no one else in the market with the software and hardware assets that can match Oracle."
Hurd, who was hired last Monday, kept things light and on-message during the call, steering clear of the controversy that has engulfed his short tenure at HP's competitor. HP (HPQ, Fortune 500) is suing Hurd for breach of contract, and IBM (IBM, Fortune 500) CEO Sam Palmisano criticized Hurd this week for slashing research and development spending while heading HP.
The only sparks on the call came from Oracle CEO Larry Ellison, who tore into archrival SAP for its "colossal mistake" in daring to challenge Oracle's software strategy.
"Fusion will be redone 100% in Java," Ellison said, referring to Oracle's new software platform. "SAP is going to compete with us using their 25-year old technology. Good luck."
Oracle reported strong, double-digit sales and profit growth in its first-quarter, on the back of rising demand for business software and servers.
New software license sales rose 25% and license updates rose 12%, a signal of robust demand for Oracle's products.
"I've been doing this a long time," Hurd said. "Twenty-five percent license growth is a big number."
Oracle Co-President Safra Catz called the license renewals "frankly outstanding.
Though Oracle is known for its business software products, the company's executives and analysts spent the majority of the call focusing on the company's integration of Sun Microsystems, which is predominantly a server maker. Oracle completed the $7.4 billion Sun purchase in January.
Ellison noted that analysts and investors have expressed a lot of concern about Oracle going into the hardware business, so he recapped the company's achievements so far and outlined plans for the future.
Oracle has already made Sun profitable by discontinuing sales of products that weren't making money, and by streamlining Sun's operations, he said. As an example, Ellison pointed to Oracle's reduction in the number of Sun's contract manufacturers.
"To quote one of our great presidents, 'Mission accomplished,'" Ellison said. "We think it's going to become more profitable over the fiscal year."
The brash CEO also set ambitious goals for Sun. Oracle thinks it can double the size of its hardware business. Next week, at Oracle's OpenWorld conference, the company plans to announce new high-end systems that combine Sun's hardware with Oracle's software offerings.
By the numbers
Oracle had a very solid financial performance in quarter ended Aug. 31. Net income rose to $1.4 billion, or 27 cents per share, up 20% from a year earlier.
Results included one-time charges totaling 15 cents per share. Without the charges, Oracle said it earned 42 cents per share. Analysts polled by Thomson Reuters, who typically exclude one-time items from their estimates, forecasted earnings of 37 cents per share.
Sales for the Redwood City, Calif.-based company rose 48% to $7.5 billion, topping analysts' forecasts of $7.3 billion.
For the current quarter, Oracle said it expects sales to increase by 43% to 47% and earnings per share of between 45 cents 47 cents, excluding one-time benefits or charges.
Shares of Oracle (ORCL, Fortune 500) rose 4% after hours. The company's stock has been on a tear lately, rising 11% since Hurd came on board.