Say g'day to the mighty (Australian) dollar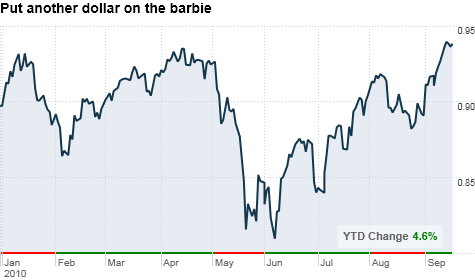 NEW YORK (CNNMoney.com) -- For investors still looking for clues about where the market and economy is heading, I suggest it's time to start singing Waltzing Matilda.
Aussie Aussie Aussie! Oi Oi Oi! Yes, I speak of the land down under. (Great. Now I have the Men at Work song in my head and a bizarre craving for a vegemite sandwich.) Anyway, the Australian dollar has been on fire lately and some strategists think that's a good sign for the global economy. Here's why.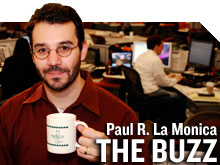 Australia is a commodity-rich nation. So the surge in its currency is a reflection of the recent spike in commodity prices. But one commodity in particular is helping to boost the fortunes of Australia: copper.
Copper has many industrial uses. So copper prices, more so than the prices of more speculative commodities like gold and even oil, tend to rise and fall based on the tried-and-true economic laws of supply and demand.
Because of the metal's solid track record as a true barometer of fundamental trends, some market strategists refer to it as Dr. Copper. The joke, if you will, is that copper has a PhD in economics. (Does that mean gold just has a Bachelor's degree? I digress.)
So the increase in the Australian dollar could be a bullish sign. Boris Schlossberg, director of currency research at GFT Forex in New York, noted that the Aussie has been benefiting from more favorable news about China's economy.
"The move in the Australian dollar is a play on the global recovery, especially Chinese demand, picking up pace," Schlossberg said. "If you are a bull on the stock markets worldwide, the Aussie is your bet."
John Kosar, director of research with Asbury Research in Chicago, takes it a step further. He said the rally in the Australian dollar could be evidence that the U.S. economy may actually be picking up a bit of steam.
Kosar explained that there tends to be a strong correlation between the price of copper and transportation stocks in the United States. That's important since the performance of railroads, truckers and shippers, are often a good leading indicator for the markets and economy.
Many market observers think it's an encouraging sign when the Dow Jones Transportation Average is moving in tandem with the broader market. And lately, that has been the case.
"Everybody is stroking their chin and wondering where the U.S. stock market is headed," Kosar said. "That's why the Aussie surge is interesting. The Aussie is up because copper is up. And copper prices typically lead to a rise in transportation stocks. Connect the dots."
Still, Schlossberg said the strength in Australia has more to do with China. And that's not a bad thing. He said that right now, it seems more important to global investors for China to show continued signs of strength. If that happens, then there's a better chance that the U.S. may also stabilize.
"The U.S. is still a linchpin of the global economy but it's not the leader. It's more of a supporting actor," Schlossberg said.
Investors also can't forget Europe either. The fears about the sovereign debt crisis there are dissipating a bit.
But Michael Woolfolk, senior currency strategist with Bank of New York Mellon, said any renewed fears about the so-called PIIGS nations could lead to more concerns about how fragile the global economy is.
In other words, Woolfolk thinks the Aussie rally is just another reflection of investors once again embracing riskier assets. That may not last for much longer.
"The curious thing about the Aussie strength is that it has been more predicated on factors outside of the country than domestic factors -- which is never healthy for the long term," he said. "It's possible the Aussie could go even higher but I'm not very confident it will."
Reader comment of the week: I wrote on Tuesday about how Toyota was still feeling the pain from the recall problems earlier this year. Toyota used to be synonymous with quality but it may take a long time for its good reputation to come back.
"I got two loaner cars from Toyota, and both felt a little cheap. One had a leak from the rear window. My usual car, the Sequoia, wore tires unevenly, needed a new battery after 3 years and the DVD player died already," wrote Robert Zitka. "Maybe older Toyotas were good quality but I don't see it now."
- The opinions expressed in this commentary are solely those of Paul R. La Monica. Other than Time Warner, the parent of CNNMoney.com, and Abbott Laboratories, La Monica does not own positions in any individual stocks.