Investors bid sayonara to Toyota
NEW YORK (CNNMoney.com) -- It isn't easy to recover from a public relations nightmare. Just ask Toyota.
Shares of the Japanese auto giant have continued to struggle in the months following the worst of its recall woes. The company's U.S. listed shares are down 17% this year and currently trade only 4% above the 52-week low they hit last week.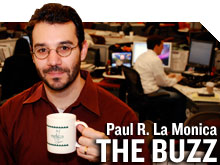 Can Toyota (TM) ever get its mojo back? Consumers appear to be slow to forgive the company, which prior to the problems with "unintended acceleration," was widely thought to be one of the most reliable automakers around.
According to figures from research firm Autodata, Toyota's U.S. market share for the first eight months of 2010 is 15.2%, down from 16.6% in the same period a year ago.
Rivals such as Ford Motor (F, Fortune 500), Chrysler, Nissan and Hyundai all appear to have taken advantage of Toyota's problems as market share for those four car companies are all higher this year than in 2009.
"When a company has a well publicized problem, it takes time to get back on track," said Maris Ogg, president of Tower Bridge Advisors, a money manager in Conshohocken, Pa. that owns shares of Toyota.
Ogg said she still likes Toyota's prospects for the long-term but that her firm has been selling off pieces of its stake in the company since the recall story started making headlines in late January.
Sure, Toyota is clearly trying its best to win back consumers. The news Tuesday that the company is planning six new hybrid models for 2012 is the latest effort by Toyota to try and remind people that it has been among the most aggressive in terms of making fuel-efficient vehicles.
But Toyota now faces some problems that go beyond convincing skeptical consumers that its brakes and gas pedals really work.
The company, like the rest of the auto industry, has to worry about an economic recovery that appears to be quickly losing steam around the world, but most notably in the U.S.
That weakness was cited by analysts at Al Frank Asset Management, an investment firm in Laguna Beach, Calif. that sold its stake in Toyota this week.
In its Prudent Speculator e-mail note to clients Monday night, the company indicated that it no longer owns Toyota because the firm feels that problems in the U.S. car business "could cause more bumps in the road" for the company.
Even worse, Toyota has to contend with political and economic problems in Japan that have pushed the yen to a 15-year high against the dollar.
As long as the yen keeps strengthening against the greenback, the price of Japanese-made goods will be more expensive in the United States. That means Toyota and other major Japanese exporters will continue to feel a bigger and bigger pinch to their bottom lines.
But since cars and trucks are already an expensive purchase to begin with, Ogg said any further sticker shock could really hit Toyota hard . Budget-conscious shoppers may increasingly spurn imports in favor of cars from Ford, GM or Chrysler.
"Price is a major determinant of consumer behavior so as long as you have a big price increase for whatever reason, consumers will be wary," she said.
David Whiston, an auto sales analyst with Morningstar in Chicago, added that Toyota could suffer even more than its Japanese rivals Honda and Nissan from a rising yen.
That's because Honda and Nissan make more vehicles outside of Japan than Toyota. This shift in production limits the impact of a stronger yen somewhat since fewer of their vehicles are actually exported from Japan.
"The incredibly strong yen is Toyota's biggest problem right now, more than the recalls," Whiston said. "Toyota is the most exposed to currency risk because they produce so many cars in Japan."
Finally, another concern for Toyota investors is the fact that shares are still expensive, in spite of all the company's problems.
Based on the consensus of analysts in Japan tracking the company's performance in yen, the stock trades at about 19 times earnings estimates for this fiscal year, which ends in March 2011.
Honda (HMC), by way of comparison, trades at only 11 times forecasts for its current fiscal year while Ford trades for just 7 times this year's profit projections.
The team at Al Frank Asset Management cited "the premium valuation that the shares still exhibit" as another reason for selling Toyota.
That makes sense. It's harder to justify why investors should pay a luxury price for a stock that more resembles a beat-up lemon.
- The opinions expressed in this commentary are solely those of Paul R. La Monica. Other than Time Warner, the parent of CNNMoney.com, and Abbott Laboratories, La Monica does not own positions in any individual stocks.