Gold edges up to a new record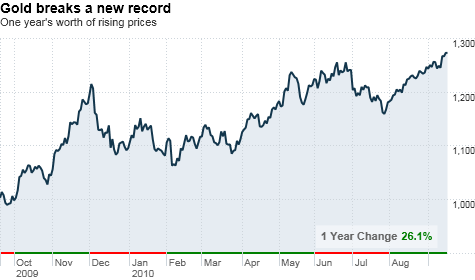 NEW YORK (CNNMoney.com) -- Gold continues to break records, hitting its fourth new high in a week Monday, fueled by economic jitters.
Gold futures for December delivery closed at $1,280.80 an ounce, up $3.30, or about 0.3%. That breaks the record close that was set on Sept. 17, when prices rose $3.70 to settle at $1,277.50 an ounce.
Gold futures for December delivery reached an intraday record that was even higher, at $1,285.20 per ounce. The prior intraday record was $1,284.40 an ounce, on Sept. 17.
Gold prices have been riding a wave of economic uncertainty. Jono Remington-Hobbs, a precious metals analyst for the TheBullionDesk in London, said the big drivers are economic uncertainty, volatility in the currency markets and the possibility of more quantitative easing -- meaning the buying of bonds by the U.S. government.
Despite the announcement by the National Bureau of Economic Research that the recession ended in June 2009, Remington-Hobbs said he believes that uncertainty will continue to drive gold prices.
"I think there's a strong chance that gold will get close to touching $1,300 [per ounce] in the next month or two, actually," he said.
Gold prices have climbed 26% over the last 12 months. But in actuality, prices are a far cry from their true record, when adjusted for inflation.
Gold hit its true peak on Jan. 21, 1980, when it rose to $825.50 an ounce. Adjusted for inflation, that translates to an all-time record of $2,184.08 an ounce, in 2010 dollars.