A Chinese stake in GM? Bravo!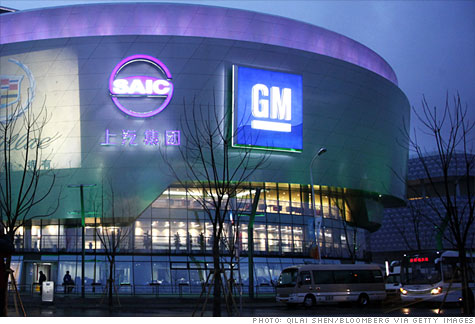 FORTUNE -- The drumbeat in the blogosphere began about a millisecond after the news broke on Monday that Shanghai Automotive Industrial Corp. was considering buying a piece of General Motors when the US Treasury Department floats its shares in an IPO sometime later this year. "The U.S. government should block such a deal from ever occurring," wrote one outraged commentator at Yahoo News. "Major U.S. companies like GM should be owned by American investors, not by any company run by a foreign government; particularly a foreign government that is hostile toward the U.S. This deal would jeopardize U.S. national security and should be rejected.''
So predictable was that particular line of thinking that the Wall Street Journal reported that the Treasury department "is concerned about coming under criticism if a Chinese company were to take a stake in an American industrial icon like GM, especially one that was saved with money from U.S. taxpayers."
Oh my. Where to begin? Set aside the obvious rhetorical point that the US government is, in its own way, about as bankrupt as GM was, and has been relying for years on debt financing from China to meet its obligations. Beijing holds close to $2 trillion worth of Treasury bonds, a portfolio on which the Chinese government has pocketed, in dollar terms, literally billions in profit as interest rates have plummeted in the US.
SAIC is one of GM's key joint venture partners in China, the country that is now -- and will forever be -- the largest automobile market in the world (as measured by the number of units sold). The Chinese government owns a controlling stake in SAIC. The company had $33.6 billion in sales last year, making it #223 on the Fortune Global 500.
In part because of its joint venture with SAIC, GM is doing very well in China. Indeed, earlier this year, Tim Lee, the President of GM International in Shanghai, was practically ebullient about the state of GM's relationship with SAIC. "It's excellent," he told Fortune.
But now, some Americans -- and, apparently, the Obama administration -- are going to go through the requisite hand-wringing because SAIC might want to buy a stake in GM as it tries to get beyond the humiliating "Government Motors" era. We're at something of a pivotal point in the history of global capitalism right about now, and it's unclear who -- aside from the top leadership at Fortune 500 companies worldwide -- really quite get it.
Time to embrace China's influence
For truly global companies, the United States is no longer the most important market in the world. China is. It's already the biggest market for some -- automobiles, iron ore, oil from the Middle East -- and for others, it will soon be. Give it a decade or so, and it will be hard to find an industry or a product for which China is not the world's largest market.
This is simply the tyranny of numbers: when you marry 1.3 billion people with brisk economic growth, that economy, in simple GDP terms, becomes bigger than everyone else's. China recently surpassed Japan as the world's second-largest economy, and a lot of news organizations treated that as news. It actually was the opposite of news. When something's inevitable, it's not news. China will one day surpass the United States as the world's largest economy. That's not necessarily bad, nor is it necessarily good. It simply is. And that simple reality also means that Chinese companies are going to play a larger and larger role on the global stage from here on out.
So now we have SAIC, controlled by the Chinese government, joint venture partner with General Motors in the world's biggest and fastest growing auto market, saying it is considering buying into GM's IPO later this year. Consider me less than stunned. Ah, but there's a catch, the critics say: this is unlike Geely (another Chinese auto company) buying Volvo's passenger car business earlier this year, because the government doesn't own Geely. It's a private company. SAIC is government-owned, and thus...
What, exactly? It's true that in the last decade, China's state-owned firms have grown enormously, and are hugely -- which is to say, overly -- influential in their home market. (The 1990s, by contrast, was a decade in which smaller, private firms drove growth in China.) And, make no mistake, the government doesn't simply let these companies do whatever they want, as long as they're growing and making a decent return on investment. The government pays attention (see former Financial Times bureau chief Richard McGregor's terrific new book, entitled The Party, for chapter and verse on this). But if you're GM -- or its controlling shareholder, the US Treasury -- is there really a downside to this? Perhaps SAIC knows enough about GM's plans in China to make this a good investment. In fact, maybe SAIC knows enough about a reformed GM globally to think it's a good investment.
Shareholders benefit
Both are plausible. And wouldn't that be, from a shareholder's perspective (which is to say, from the US taxpayer's standpoint), a good thing? Don't we want a successful GM IPO, so we can get more of our money back? Even the United Auto Workers, which now controls 17.5% of GM, presumably would like to see its shares become more valuable.
I say presumably because the UAW's attitude toward GM's China exposure has always been skeptical. The union no doubt remains deeply fearful of GM importing more cars made in China into the US. (So sensitive is the pay disparity between autoworkers in China and those in the US that GM's management in Shanghai has always refused to answer straightforward questions about how much a production line worker there earns.) If SAIC buys a small chunk, wouldn't the China side of GM's house become that much more influential -- and possibly prod GM's management into looking at the US as an export market for Chinese-made vehicles?
It's possible. But GM has had a standard riposte to those over the last couple of years who have asked why it doesn't import more vehicles from China into the US. The strategy, they always intone, is to build locally -- whether in the US, Europe or Asia. (The counter riposte to that, of course, is: and how's that strategy been working out for you in the last decade in the US, where GM's market share slowly but steadily shrunk to below 20%?)
It's a fact that Chinese companies, both state-owned and otherwise, are becoming more influential in the world. If you're not used to that yet, you better catch up. After all that GM has been through, spare me the romance about a once great American industrial icon.
There are additional facts that matter here: One, there is no plausible national security risk to any state-owned Chinese company owning a small stake in GM. Two, If GM has a future, China is a huge part of it -- and so, by definition, is Shanghai Auto. Which leads to fact number three: If SAIC decides it wants to buy a chunk of the new GM before the end of the year, the US Treasury ought to say what it will say to every other investor: thank you very much, and we dearly hope it works out for you.