China winning renewable energy race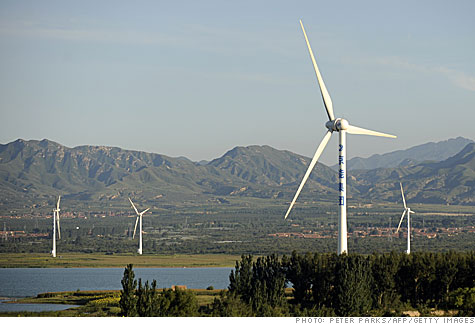 NEW YORK (CNNMoney.com) -- Five miles off the coast of Shanghai, the Chinese recently completed the country's first offshore wind farm.
The project was completed before construction on the first American offshore wind farm has even begun.
The Shanghai project is not just another wind farm. It's the next generation in wind power technology and the latest example of how China is jumping ahead of the United States.
Earlier this month, the accounting firm Ernst & Young named China the most attractive place to invest in renewables, knocking the United States out of the top position.
The study ranked countries on such things as regulatory risk, access to finance, grid connection and tax climate. It cited the lack of a clear policy promoting demand for renewables in the United States -- a product of Congress' failure to pass an energy bill -- as one of the main factors for the dethroning.
China has already surpassed the United States in the amount of wind turbines and solar panels that it makes. China is also gaining on the United States when it comes to how much of their energy comes from renewable energy sources.
The country that leads in the renewable energy industry, is opening the door to more home-grown jobs.
Cash is pouring in: From an investment point of view, the trend is clear.
In 2009, nearly $35 billion in private money flowed into Chinese renewable energy projects, including factories that make wind turbines and solar panels, according to the research firm Bloomberg New Energy Finance. The United States attracted under $19 billion.
"Within the past 18 months, China has become the undisputed global leader in attracting new investment dollars," Ethan Zindler, head of policy analysis at New Energy Finance, recently told a congressional committee.
Zindler said the money came from not only the Chinese government and banks, but also Western private equity funds and individual investors buying publicly-traded Chinese stocks.
Jobs growth, for China: The result of all this investment money is jobs.
In wind power, China-based companies are on track to make 39% of the turbines sold worldwide in 2010, according to New Energy Finance. U.S.-based companies will make just 12%.
In solar, China-based firms will make 43% of the panels. U.S. firms will make 9%.
"Countries that make the most investments will create the most jobs," said Chris Lafakis, an economist at Moody's Analytics, an economic consultancy.
Lafakis, citing a Pew Charitable Trusts study, noted that the overall "green" economy is still pretty small - in the U.S. it employees 770,000 people. But It's growing rapidly - three times as fast as the overall economy.
"It's important to invest in this sector because the jobs of tomorrow will be created here," he said.
Why China: Most analysts feel the investment money is flowing to China because that country has stable policies that encourage the construction of renewable energy power projects.
"China is really taking clean energy to be part of their national strategy," said Gil Forer, one of the analysts at Ernst & Young that ranked China the best place to invest. "They are trying to create a competitive advantage in what many believe will be the industry of tomorrow."
China has instituted a policy that requires a modest 3% of its electric power to come from renewable resources by 2020. This stimulates demand for renewable energy.
In the United Sates, about half the states have such a goal, often with more ambitious targets. But a federal standard has been held up, largely by lawmakers in the Southeast, where wind energy isn't as available.
On Tuesday a new bill with just such a standard was introduced in the Senate with bipartisan support, but analysts say the Senate's busy schedule means the bill has a slim chance of passing this year.
China also requires utilities to buy renewable power at a higher rate than conventional power, a system known as feed-in tariffs.
The United States, by contrast, has a patchwork system of state and federal tax incentives for renewable energy production, which need to be renewed every few years. This is often confusing for businesses in the sector, and does nothing to stimulate demand.
"What we have today is uncertainty, and that is not good," said Forer. "We need to look at this as a strategic decision."
Not buying it: While China may be increasing wind turbine and solar panel manufacturing to grow its economy, some people feel that it isn't as interested in applying the more expensive technology at home.
"It is impossible to tell why they are investing anything at all in [wind farms and solar power plants], which are not competitive with coal," said Myron Ebell, an energy analyst at the Competitive Enterprise Institute, a conservative research and advocacy group. "My guess is that it's window dressing for the West."
Ebell said China is excelling at making renewable energy parts for the same reason they are excelling at making all sorts of other things: low cost, high skilled labor; weak environmental laws; and cheap energy.
The Chinese, Ebell believes, are simply using the West's fascination with wind and solar as a chance to sell it products.
Indeed, while China has surpassed the United States when it comes to making the equipment, it has not yet caught it in terms of renewable energy production.
In 2009 China could produce 25 gigawatts of wind power and under 1 gigawatt of solar, according to Ernst & Young. The United States could produce 35 gigawatts of wind and 2 gigawatts of solar.
One gigawatt can power 780,000 U.S. homes. The world used 4,428 gigawatts of electricity in 2007, according to the U.S. Energy Information Administration.
China isn't expected to produce more renewable power than the United Sates until sometime between 2020 and 2025, according to EIA.
We're No. 2: In talking about Chinese renewable energy, almost all analysts wanted to make two things clear:
One, it's not really a game of the United Sates verses China. Each solar panel or wind turbine contains parts from all over the world, and an expanded market and lower costs benefit everyone.
And two, despite losing the number one spot, the United Sates is still a pretty good place to invest.
"You can't forget that the United States is still No. 2," said Forer.