Gold closes just shy of $1,300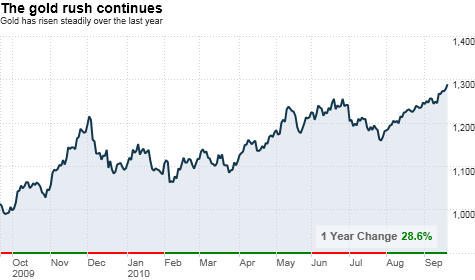 NEW YORK (CNNMoney.com) -- Gold prices continued their record run Wednesday, reaching a new high that was just shy of $1,300 an ounce.
Gold futures for December delivery touched an intraday peak of $1,298 an ounce - a record high - in early trading.
Then they backed off their peak to settle at $1,292.10, an increase of $17.80 per ounce, or up 1.4%, from the day before. That was a record settlement, breaking the prior closing record from Sept. 20, when the precious metal settled at $1,280.80 an ounce.
Jitters about the pace of the recovery have been a big driver of the gold rush, said Jono Remington-Hobbs, a metals analyst for TheBullionDesk in London.
Investors look to gold and other low-risk investments as safe bets during heightened uncertainty, which doesn't look like it's going away anytime soon.
"There's more weakness ahead," said Jeffrey Nichols, senior economic advisor to Rosland Capital. "Even if the economy doesn't fall into an official recession again, it will at least face recession-like conditions, and we're in for years of sluggish growth."
Adding fuel to the fire are volatility in the currency markets and the possibility of more quantitative easing, meaning the buying of bonds by the Federal Reserve.
"The Fed has made it clear that it will be more aggressive in the future, and that rather than inflation, it is more concerned about deflation," said Nichols, who is also the managing director at American Precious Metals Advisors. "The expectation for more monetary creation favors gold and other precious metals, and weakens the dollar."
Where prices are headed: If the record run continues, traders may soon be updating their 2010 price targets to $1,350 an ounce, said Carlos Sanchez, precious metals analyst at CPM Group in New York.
And Nichols said prices could spike as high as $1,500 an ounce by the early next year
Sanchez said a full blown overhaul of the economy may be the only thing that can stop this otherwise-inexorable increase. For that to happen, he said unemployment and U.S. debt would have to decline and the U.S. gross domestic product would have to rise to an annual rate of 3% from its most recently reported rate of 1.6%.

What's getting more expensive in your life? Economists are saying deflation is a concern, but prices for many things are still increasing. What specific items are getting more expensive in your daily life? Tell us about it and you could be featured in an upcoming story on CNNMoney.com