Will Toyota's Scion avoid Saturn's fate?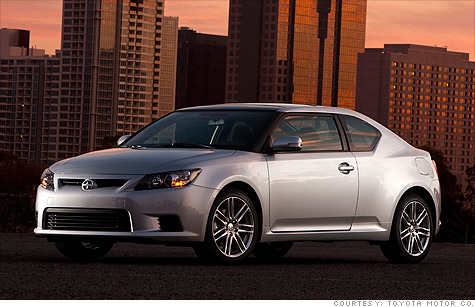 FORTUNE -- The largest auto company in the world was feeling a little stodgy and out of touch. Its traditional customers were aging and it was having trouble attracting younger ones. So the automaker created a new brand and a new division to attract non-traditional shoppers.
The new division fashioned itself as a "different kind of car company." It operated independently from its parent, selling unique models through a separate dealer network and experimenting with new ways of doing business, like no-haggle buying.
That was General Motors' Saturn division, created by CEO Roger Smith in 1983 and shut down in 2009 as GM went into bankruptcy.
Aimed at blocking the rapid growth of import brands, Saturn did succeed in attracting non-GM customers. But it was starved of capital for new products by other GM divisions and never developed a compelling sales proposition. GM gradually eroded Saturn's independence to save money, but Saturn's costs were unmanageable and it never made a profit.
Toyota's (TM) Scion had a similar upbringing. At the beginning of the 21st century, Toyota grew concerned that the median age of its buyers was rising and younger customers were turned off by the Toyota brand. So it created Scion (the word means "descendant" or "heir to") so members of Generation X wouldn't have to drive the same cars their parents did.
In that sense, Scion has been a success. According to Scion vice president Jack Hollis, 71% of Scion buyers are new to Toyota, and 60% go on to purchase another Scion or Toyota vehicle.
But after an initial spurt, Scion has slumped on the sales lot. Now, Toyota is trying to revive the brand with new models and an edgier sales pitch. The first product of the re-launch, the tC sports coupe, arrives on October 1st.
Ever conscious of its image, Scion wants to be even trendier and cooler. It describes its target audience for the tC as "more experimental" and it declares its intention to create a cult around Scion -- to make it an "underground brand."
Going even further, the sports coupe is described as displaying "refined aggression," a term heretofore not associated with Toyota cars.
Toyota has been pushing the envelope with Scion since it opened for business in California in 2003. Scion avoided traditional marketing and associated itself with musicians and artists, sponsoring concerts and art shows. Unlike mainstream brands, cars from Scion were available in only one trim level and customers were invited to customize them with aftermarket accessories.
The first three models were, by turns, edgy (the xB), cute (the tC) and exotic (xA). But they all were fresh and inexpensive, and they sold well. In 2006, 173,000 Scions found customers and most were, in fact, young. With a median age of 37, Scion buyers were the youngest in the industry.
Scion stayed a bit aloof. It declared that its models would be produced in limited editions, like, say, lithographs. When supplies of a particular model were exhausted, the company wouldn't produce any more. It worried about becoming popular because that would be uncool.
"If we make Scion too commercially successful, we'll threaten what makes it valuable to the company," declared Scion's founding vice president Jim Farley (who later moved on to Ford).
But as GM did with Saturn, Toyota allowed the Scion product line to age -- with predictable consequences for a brand that aimed at picky young buyers and saw itself as trendy. Sales peaked at 173,000 in 2006 and began to slide, reaching 57,961 in 2009.
Unlike GM, Toyota has the financial wherewithal to keep Scion alive. But Toyota is trying to fix Scion while facing a strong head wind: the strengthening Japanese yen.
All Scions are built in Japan, and the yen has appreciated by nearly a third against the dollar since 2007, boosting production costs and squeezing already skinny margins on profit-slim subcompacts even tighter.
The arrival of the tC will give the Scion brand a boost. It is considered the mainstay of the Scion lineup and accounts for 41% of all Scion vehicles on the road.
Buyers of the tC are also the brand's youngest -- astonishingly young for a car that costs nearly $20,000. At a time when it is difficult for even experienced workers to find a job, Toyota says the median tC buyer is only 26 years old.
Hollis predicts that the tC and an unidentified fourth model will bring Scion sales back to 100,000 by 2011.
But it takes a continuous flow of new products to keep a brand alive. GM didn't realize that until 2007, when it belatedly began to rebadge Opels for sale as Saturns. That was too late to save Roger Smith's bold experiment. Toyota watchers will be following Scion closely to see if it can avoid the same fate.