Don't bet against Priceline (or William Shatner)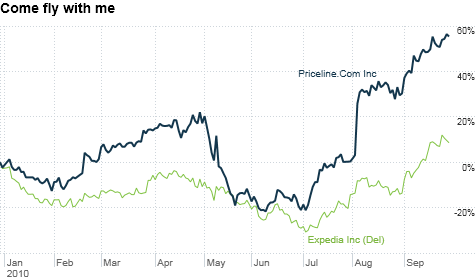 NEW YORK (CNNMoney.com) -- William Shatner is a modern day King Midas.
He's still adored by millions of Trekkies. Or is it Trekkers? His new CBS sitcom "$#*! My Dad Says" enjoyed solid ratings when it premiered last week. And that little online travel company he does commercials for is doing quite nicely.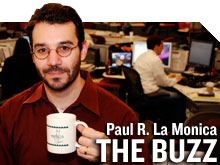 Yes, Priceline.com (PCLN), which Shatner has been a spokesman for since 1998, has amazingly become one of Wall Street's tech darlings lately. The stock is up over 60% year-to-date and is currently trading around a 52-week high of $350 a share.
On Tuesday, when other hot momentum tech stocks such as Apple (AAPL, Fortune 500), Netflix (NFLX) and Baidu (BIDU) all fell, Priceline bucked the trend and rose again.
The company's market value is about $17 billion. To put that in perspective, Priceline is worth almost twice as much as Southwest Airlines -- despite the fact that Southwest (universally regarded as the best-run airline) is expected to generate nearly four times as much revenue as Priceline this year.
So can Priceline stock continue to head even higher? There is a compelling case to be made that it's still a relatively decent bargain.
The company has come a long way from its late 1990s roots as a quirky (and niche) online travel site that offered customers the ability to name their own price. That's still part of the company's business but it's more of a classic discount travel agency now than just a source for last-minute deals.
And despite its big run, Priceline is trading at about 23 times 2011 earnings estimates. That isn't cheap but it's not ludicrously high considering that earnings per share are expected to surge 45% this year and 23% in 2011.
That's stunning growth -- especially when you consider that Priceline, which has expanded aggressively into Europe, was hit by worries earlier this year about how the euro debt crisis and trans-Atlantic travel halt due to the Icelandic volcano would impact profits.
But Priceline has made a living from defying the odds. The stock was left for dead in the wake of the dot-com bubble's bursting in 2000.
In 2003, the company needed to engineer a reverse stock split, which reduces the shares outstanding in order to artificially raise the stock price, to avoid being delisted. Reverse stock splits are often viewed as an act of desperation.
Now, with a stock price firmly in the triple-digits, it's reasonable to wonder if Priceline might do a real stock split -- in which the price gets lowered after boosting the share count.
Of course, investors in any hot stock have to exercise caution. The stock is far more expensive than rival Expedia (EXPE), which is trading at about 15 times 2011 profit forecasts. But Priceline's valuation is roughly in line with Orbitz Worldwide (OWW), which is more of a turnaround story.
So Priceline does appear to be the clear leader in the sector and momentum is on its side. If nothing else, it seems that betting against William Shatner is a risky proposition. The Shat clearly has a knack for picking winners.
Who said frugality is dead? Quick update to Tuesday's column about retailers. I mentioned that not every stock in the sector would be a winner and that consumers are still pinching pennies. Guess what? Super discounter Family Dollar Stores (FDO, Fortune 500) reported profits and sales that topped forecasts Wednesday. The stock gained nearly 3% on the news.
- The opinions expressed in this commentary are solely those of Paul R. La Monica. Other than Time Warner, the parent of CNNMoney.com, and Abbott Laboratories, La Monica does not own positions in any individual stocks.