Léo Apotheker named Hewlett-Packard CEO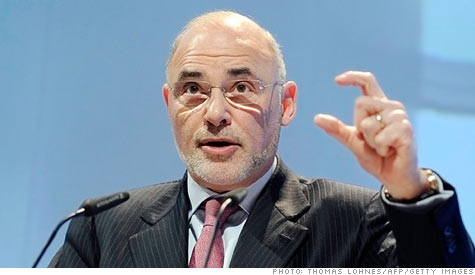 NEW YORK (CNNMoney.com) -- Hewlett-Packard named Léo Apotheker as its new chief executive on Thursday, ending nearly two months of speculation about who would take over for ousted CEO Mark Hurd.
Apotheker, the former CEO of business software firm SAP (SAP), will take the helm at HP (HPQ, Fortune 500) beginning November 1, the company said in a press release.
"Léo has been a leader in anticipating the transformation taking place in our industry, and we believe he is uniquely positioned to help accelerate HP's strategy," Robert Ryan, an HP board member, said in a statement.
Apotheker worked at SAP for more than 20 years before leaving the German software giant in February. He was named co-CEO in April 2008 as part of a plan to transition management of SAP from Henning Kagermann, who was CEO at the time.
HP's decision to name Apotheker was somewhat surprising because the company had been widely expected to appoint an internal candidate to the top spot. Todd Bradley, executive vice president of HP's personal systems group, and Ann Livermore, of the company's enterprise business, were among the leading contenders.
Brian Marshall, an analyst at Gleacher & Company, said Apotheker was low on the list of external candidates, behind executives such as Steven Mills, a vice president at IBM (IBM, Fortune 500) and Michael Capellas, the former CEO of Compaq.
"He's definitely an outside choice, but there are positives to that," Marshall said. "The investment community has been somewhat frustrated with management at HP for some time."
The search took almost two months -- about as long as HP took to replace former CEO Carly Fiorina, who stepped down in 2005 amid a corporate espionage scandal.
Hurd resigned from his position of CEO and chairman of the board on Aug. 6 after the company found he submitted false expense reports to hide a relationship with a marketing contractor.
The contractor filed a sexual harassment claim against Hurd, which was settled privately. An internal investigation at HP cleared Hurd of breaching the company's sexual harassment policy but found he violated HP's standards of business conduct.
Cathie Lesjak, HP's chief financial officer, had been acting as interim CEO since Hurd resigned. She took herself out of the running for the permanent CEO position.
The company also announced that Ray Lane, a managing director at venture capital firm Kleiner Perkins Caufield & Byers, as its non-executive chairman. Lane also used to work for software company Oracle (ORCL, Fortune 500) as its chief operating officer. Hurd is now Oracle's co-president.
Marshall said both Apotheker and Lane have substantial experience in the software business, which could help HP compete with its main rival IBM.
"His software experience is going to be a tremendous help," he said of Apotheker.
Shares of HP were down 3% to $40.78 in extended trading after being halted briefly following the announcement. The stock fell 1.8% in active trading to close at $42.07.