VW's quest to conquer America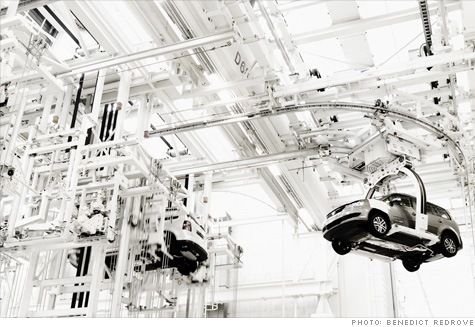 FORTUNE -- Volkswagen -- which used to ask customers to "think small" -- is thinking big. Some might even say it's thinking grandiose.
Now second among the world's automakers in numbers of cars produced, VW Group has declared its intention to become the global leader, overtaking Toyota (TM) by 2018. Key to the plan is its ambitious goal to triple sales in the U.S., long a weak link in VW's global operations.
It's going to be quite a challenge. Back in 1970, when the Beetle was in its heyday, VW sold 569,696 cars, making up 7% of the market. Hurt by Japanese and Korean competition, unfavorable exchange rates, and a weak dealer network, it hasn't come close since. In the past decade VW's U.S. sales have declined from 358,429 in 2000 to 213,454 in 2009, just 2% of the market (3% if you include Audi, VW's luxury brand). Deutsche Bank estimates that VW has been losing more than $600 million a year in North America since 2003; last year's revenues there were $15.2 billion.
It's the opposite of VW's experience elsewhere around the world, where the company has been a powerhouse. It is the No. 1 automaker in Europe, the No. 1 foreign automaker in China, and currently ranks second in Brazil. Fast-growing emerging markets already make up nearly half its sales; that's the highest percentage in the industry and one reason Goldman Sachs ranks it as one of three potential long-term industry winners, along with Toyota and Fiat.
But VW still needs to work harder to grab U.S. customers. It has been less willing than Asian makers to modify designs for American buyers, and quality remains a sore point; VW cars finish near the bottom of J.D. Power surveys of initial quality and three-year dependability. "VW needs to spend much more time understanding the U.S.A. consumer," says George Peterson of AutoPacific, a market research firm.
To recharge its stateside operation, VW is creating more U.S.-specific models, such as the larger and cheaper 2011 Jetta, and opening a new assembly plant in Chattanooga. In mid-September it named veteran industry executive Jonathan Browning, formerly of GM and Ford (F, Fortune 500), to run its North American operations.
Is VW overreaching? The last two automakers that made it to No. 1 were Toyota and General Motors. The ambitions of both led to problems that have dogged them since.