Bank of Japan cuts benchmark rate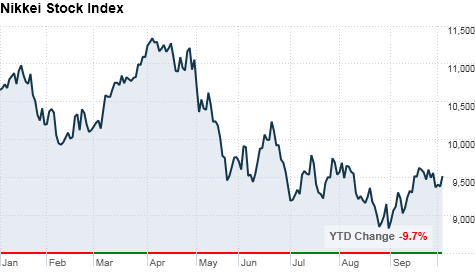 NEW YORK (CNNMoney.com) -- The Bank of Japan lowered its key interest rate Tuesday to virtually 0%, citing concerns about the pace of the economic recovery.
While the reduction was slight -- the rate was cut to a range between 0% and 0.1% from 0.1% -- the Bank of Japan said it was necessary to launch a "comprehensive monetary easing policy," due to the slowdown in the pace of Japan's recovery.
As part of its efforts to boost the economy, the central bank also said it would purchase $60 billion (¥5 trillion) of government bonds and other assets.
Shares in Japan rallied on the news, with the benchmark Nikkei index closing up nearly 1.5%.
In its policy statement, the Bank of Japan cited concerns about heightened uncertainty in the United States and the appreciation of its currency -- the yen, whose strength has hurt exports recently. Last month, the Japanese government said it would intervene in the currency market, buying up dollars to try and rein in the yen's record run.
"Although Japan's economy still shows signs of a moderate recovery, the pace of recovery is slowing down partly due to the slowdown in overseas economies and the effects of the yen's appreciation on business sentiment," the Bank of Japan's statement said.
The central bank, which has struggled to fight deflation, pledged to maintain its virtually 0% interest rate policy until "price stability is in sight."
With there being little room to lower rates further, the central bank identified additional steps it would take to shore up its economy.
It said it would encourage a decline in longer-term interest rates and various risk premiums, a move that it acknowledged was "an extraordinary measure for a central bank."
The yen gained against the dollar, hovering around ¥83.34.
Meanwhile, The Reserve Bank of Australia left its overnight money market interest rate unchanged at 4.5%, the level that it's held since May.
The Australian dollar, which has been trending higher lately, dipped against the U.S. dollar following the announcement.
Glenn Stevens, governor of the board that makes monetary policy decisions, said the action was influenced by "uncertainty" in the markets of the United States and Europe, resulting from the "legacy of the financial crisis and its impact on private and public finances."
"If economic conditions evolve as the board currently expects, it is likely that higher interest rates will be required, at some point," Stevens added, hinting that that cash-rate might eventually be increased.
Australian stocks edged lower, with the ASX 200 index closing down less than 1%.