Employees love Microsoft -- but not Ballmer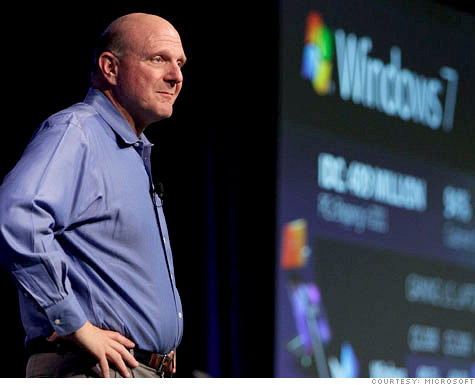 NEW YORK (CNNMoney.com) -- Microsoft CEO Steve Ballmer is a polarizing figure, not just for Microsoft investors but also for the company's employees.
An ongoing survey of more than 1,000 Microsoft employees conducted by Glassdoor.com currently shows that only 51% of Ballmer's staff approve of his performance as CEO.
That's telling, considering that Microsoft (MSFT, Fortune 500) employees said they love the company itself. Microsoft ranked No. 51 on Fortune's list of the 100 Best Companies to Work For, and the software giant's work force gave the company an average satisfaction score of 3.5 out of 5 in Glassdoor's poll. That's significantly higher than the ratings of other tech giants like Hewlett-Packard (HPQ, Fortune 500), IBM (IBM, Fortune 500), Oracle (ORCL, Fortune 500), Dell (DELL, Fortune 500) and Cisco Systems (CSCO, Fortune 500) and only slightly lower than the 3.8 rating employees gave to both Apple (AAPL, Fortune 500) and Google (GOOG, Fortune 500).
But as the head of the company, Ballmer hasn't been able to find the same kind of love and admiration.
Some on Wall Street have been calling for his head for years. Since Ballmer took the reins as CEO from Bill Gates in 2000, Microsoft's stock has been nearly cut in half. Despite this year's strong financial performance and impressive sales of Windows 7, Office 2010 and cloud products for corporate customers, Microsoft's stock has gotten hammered, falling 20%.
Things haven't gotten any better for the embattled CEO lately. Microsoft revealed in a regulatory filing on Friday that Ballmer wouldn't max out his potential bonus this year, because of consumer product failures. The board cited "the unsuccessful launch of the Kin phone, loss of market share in the company's mobile phone business, and the need for the company to pursue innovations to take advantage of new form factors."
That last bit about "form factors" is jargon for "where's our tablet!?"
A make-or-break moment could be looming for Ballmer. On Oct. 11, Microsoft will hold an event in New York at which it will unveil its new mobile platform, Windows Phone 7, to the public. The company is expected to also discuss its tablet strategy.
Success in those two arenas -- smartphones and tablets -- will be if Microsoft is to maintain its dominance in the future.
"This is a pretty critical moment for Microsoft, particularly as we see a shift to people wanting access to the information they need from any device," said Rebecca Wettemann, analyst at Nucleus Research. "The winner in this space will be the one that puts a toy in the consumer's hands that is also a good business tool for a worker's hands."
Apple and Google have already taken early leads in mobile, and Apple's iPad essentially recreated the tablet category of devices, leaving Microsoft desperately trying to catch up.
Microsoft hasn't been able to get any traction in the mobile market with its smartphone platform. In fact, the forecast for Windows Mobile's future was so ugly that Microsoft scrapped the platform entirely and started from scratch with Windows Phone 7.
Meanwhile, Ballmer famously killed off the tablet device that Microsoft had been working on for years before the release of the iPad. He opted instead to let device manufacturers create tablets that can run Microsoft's desktop operating system, Windows 7.
Even with these struggles, Ballmer's job seems safe in the near term. Analysts give him credit for the company's strong financial performance, and for turning Microsoft around after the Windows Vista debacle.
"In the mobile and tablet market place, clearly Microsoft is late, but we're still early in the game," said Colin Gillis, analyst at BGC partners. "There's no make-or-break moment. I liken it to a wedding: The wedding is a day, but a marriage is a lifetime."
But others think that Ballmer's failure to get Microsoft ahead on the devices that will matter most for the future is egregious enough to get Microsoft's board thinking about someone else for the position.
"[Oracle CEO] Larry [Ellison] has Fusion and [Apple CEO Steve] Jobs has the iPad, but Microsoft has had things in development for a while without being able to get those things to market," Wettemann said. "That's the kind of thing that sparks a leadership change."