New Gap logo ignites firestorm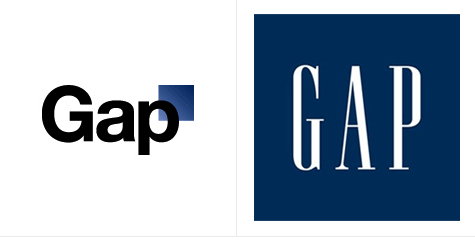 NEW YORK (CNNMoney.com) -- A new logo is a gamble. It can brighten up a company's image -- or enrage loyal customers.
The Gap learned that lesson the hard way, after debuting a new logo earlier this week that immediately touched off a customer backlash. Now the retailer says it's rethinking the change.
The store's new logo updates its 20-year old predecessor with a smaller blue box sitting above the "p" in Gap.
Since the logo's debut on Monday, Gap (GPS, Fortune 500) customers have been storming social media sites like Facebook and Twitter to tell friends -- and the company -- just how they feel about the new logo.
"This is the worst idea Gap has ever had. I will be sad to see this change take place," a Facebook user wrote on Gap's Facebook page. "If this logo is brought into the clothing [store] I will no long[er] be shopping with the Gap. Really a bummer because 90% of my clothing has been purchased there in the last 15+ years."
To appease disappointed customers, Gap immediately responded to the feedback -- and asked for better ideas.
"We know this logo created a lot of buzz and we're thrilled to see passionate debates unfolding! So much so we're asking you to share your designs," the company said on its Facebook page late Wednesday. "We love our version, but we'd like to see other ideas. Stay tuned for details in the next few days on this crowd sourcing project."
Marka Hansen, president of Gap North America, defended the logo on The Huffington Post Thursday, writing in a blog post that the move brings Gap into the modern age.
"We want our customers to take notice of Gap and see what it stands for today," she said. "We chose this design as it's more contemporary and current. It honors our heritage through the blue box while still taking it forward."
What isn't moving forward is Gap's share price, which at $18.25 is down 13% year-to-date.
And sales have been flagging for some time. Major retailers posted same-store sales results earlier this week that largely beat expectations, but Gap was one of the only companies that logged a sales drop. The retailer said sales fell 2% in September, which it described as a "challenging" month.