AOL's path to reinvention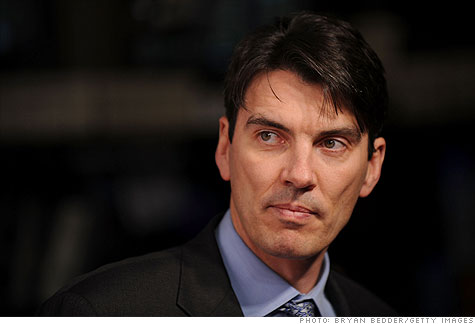 NEW YORK (CNNMoney.com) -- AOL is approaching its first birthday as an independent company -- a year it's spent trying to shed its reputation as an outdated Internet portal.
The plan to become a "content company" sounds vague, but three acquisitions last week -- of the blog network TechCrunch, the online video distributor 5Min Media and social-media company Thing Labs -- help illustrate where the new AOL is heading.
"Our entire turnaround is hinged on content," said David Eun, president of AOL Media and Studios. "We want to be the pipe to distribute the best, most compelling content on the Web."
When AOL took over Time Warner in 2001 for $111 billion, the company was an Internet powerhouse. But by late 2009 -- when Time Warner (TWX, Fortune 500) (the parent company of CNNMoney.com) spun off AOL and unwound what's now considered one of the worst mergers in history -- AOL was worth only $3 billion. Its dial-up Internet subscriber base had dwindled, and AOL was merely an also-ran in Internet traffic and advertising, behind competitors Google (GOOG, Fortune 500), Yahoo (YHOO, Fortune 500) and Microsoft (MSFT, Fortune 500).
AOL (AOL) has two key advantages left: A widely recognized brand and a huge audience of legacy users who still hit the AOL.com homepage every day. Chief executive Tim Armstrong, a former Googler who took the reins in March 2009, is building some parts of his content network internally -- most notably, Patch, AOL's hyperlocal blog network -- but he's actively shopping to fill in the gaps.
"AOL has no choice but to be aggressive in these acquisitions," said Todd Dagres, general partner at Spark Capital. "But the company doesn't have the biggest checkbook -- they'll have to make smart, creative decisions."
Ray Valdes, Internet analyst at Gartner, said AOL's three recent purchases "were good moves individually, but they'll have to work hard to prove there's room for a Web conglomerate that's really just a motley set of sites."
The strategy: Perhaps the most aggressive acquisition last week was AOL's purchase of little-known Thing Labs. The Web software developer created Brizzly, an online application that lets users post and read updates to Twitter and Facebook from one site.
"AOL has to buy companies in the primordial slime," Dagres said. "People may not know much about Thing Labs, but AOL has to act almost as a venture capitalist and help guide these new companies."
AOL also picked up 5Min Media, a small site known for videos on do-it-yourself projects ranging from art to home improvement. The Wall Street Journal, citing unnamed sources, reported that AOL paid $65 million for 5Min.
The move echoes rival Yahoo's acquisition five months ago of Associated Content, whose vast content stash includes a trove of instructional articles and videos.
"Yahoo and AOL are facing the same problem of developing a strategy beyond simply aggregating content publishers," said Valdes of Gartner. "They're both exhibiting strategy to a point, but they aren't focused on one thing -- like Facebook is on connecting friends."
AOL's hot (and cold) properties: Armstrong isn't just buying -- he's also triaging. AOL can't afford another period of irrelevance. So it's sharpening its focus, kicking out of the portfolio those brands that no longer fit.
Social networking flop Bebo was the first to go. After paying $850 million for it in 2008 -- then-CEO Randy Falco called the deal "a game-changer" that would make AOL "a social media powerhouse" -- AOL essentially sold Bebo for scrap in June to a private investment group.
Instant messaging service ICQ was next on the chopping block, selling in July for $188 million -- less than half what AOL paid to buy it more than a decade ago. The company has also sold other, smaller acquisitions, like Buy.at, at a loss, saying they no longer fit into the core strategy.
Trimming the fat should leave AOL with more time and money to invest in the properties that work. The company's highest profile initiative is Patch, a hyperlocal blog network that currently has more than 100 sites chronicling communities across the country. AOL says it is investing $50 million to rapidly expand Patch, which aims to cover 500 places by early 2011.
TechCrunch joins a growing roster of marquee properties, most targeting what Eun describes as "young influencers" in various key categories like technology. AOL picked up the foundation of that network five years ago in its Weblogs Inc. acquisition, which included Engadget, TVSquad and Autoblog. The company has added to that mix home-grown sites including DailyFinance, WalletPop, Luxist and SlashFood. (DailyFinance and WalletPop are CNNMoney.com partners.)
Content that "relates to multicultural audiences" will also be a focus as the company refines its lineup, Eun said.
Gartner's Valdes sees challenges ahead. Any big player in the Internet space will have to evolve to become mobile, global and social -- and AOL doesn't have a huge foothold in any of those areas. Valdes thinks the company should look to acquire a mobile property soon.
And Spark Capital's Dagres is still waiting to see if AOL can take the lead in the content fields it's staked out. It's competing with Yahoo, along with a dizzying array of newspapers, blogs and niche players.
"It's easy to say you want to be a content company," he said. "But if you don't move fast, you're the eighth site providing gadget reviews -- and no one wants to be No. 8."