Treasury yields remain under pressure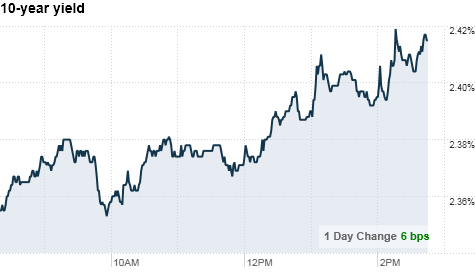 NEW YORK (CNNMoney.com) -- Vacation is over.
Treasury prices headed lower as investors returned from the Columbus Day holiday to a full slate of economic news.
Yields were under pressure Tuesday, ahead of the Federal Reserve minutes, which came out in the afternoon. The 5-year note yield touched a record low and yields on the 10-year note hovered at their lowest level since January 2009.
But yields rose (and prices fell) after the minutes were released. That's because the minutes appear to lay the groundwork for Fed action, possibly as soon as its next meeting on Nov. 2-3.
"Several members noted that unless the pace of economic recovery strengthened or underlying inflation [rose] ....they would consider it appropriate to take action soon," said the Fed governors.
That was enough to send yields higher, with the yield on the benchmark 10-year note posting the biggest gain.
The Fed has already said it would consider buying Treasurys outright -- a move known as quantitative easing. Such a move would push interest rates lower and help bolster the economy.
For now, speculation on Fed action will remain the primary market driver, according to David Coard, head of fixed income sales and trading at the Williams Capital Group.
But the Fed board is not in total agreement. Speaking to a room full of economists in Denver, Kansas City Fed president Thomas Hoenig laid out the reasoning for his opposition to another round of quantitative easing, or QE2.
While the first round of QE in 2008 was effective, purchasing additional assets now wouldn't work, he said, explaining that the Fed's balance sheet would grow exponentially and the threat of inflation would increase and outweigh the short-term benefits.
The million dollar question: When will the Fed act?
Despite Hoenig's bearish tone, "the market doesn't seem to have any doubt" that the Fed will institute another round of quantitative easing, Coard said.
Yields on 10-year notes rose to 2.42% on Tuesday, up from a close of 2.39% on Friday.
The 30-year bond yield edged up to 3.82%, and the yield on the 5-year note rose to 1.14% from a close of 1.11% on Friday. The 2-year note's yield hit 0.38%, up from a record low close of 0.35% on Friday.
Auctions: On Tuesday, the Treasury Department auctioned $32 billion of 3-year notes. The bid-to-cover ratio, which is used to measure demand, was strong at 2.95.
Demand was also high for auctions of $29 billion of 13-week bills and $29 billion of 26-week bills.
On Wednesday, Treasury will auction $21 billion of 10-year notes, followed by $13 billion of 30-year bonds on Thursday.