New option: Don't tax the rich. Tax the really rich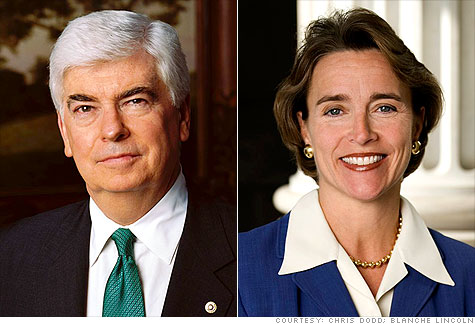 NEW YORK (CNNMoney.com) -- President Obama has drawn a line on the Bush tax cuts: $250,000.
Whether he can hold it is another story: A growing number of voices in his own party are calling for greater flexibility.
The tax cuts expire on Dec. 31, and Congress will take them up in a lame-duck session after the Nov. 2 elections.
Obama has said repeatedly that he wants to make the cuts permanent for households making below $250,000 and individuals making less than $200,000. He favors letting them expire permanently for anyone making above those amounts, arguing the economic recovery won't be harmed by a tax increase on the wealthiest.
But many Democrats -- in both the House and Senate -- worry that it might and are suggesting a higher income threshold.
Most recently, Senate Banking Chairman Chris Dodd, who is retiring, told CNNMoney that he would like to see the cuts extended for households making below $500,000.
Sen. Blanche Lincoln, who is facing a tough re-election challenge in Arkansas, said in the last week that she is amenable to extending the cuts for households making up to $1 million, according to the Arkansas Democrat-Gazette.
Senate Budget Chairman Kent Conrad, a deficit hawk who sits on the president's bipartisan fiscal commission, earlier said he wouldn't favor raising taxes on anyone for the next 18 months to two years.
And in September, 31 House Democrats, many of whom are also running for re-election, wrote a letter to the Democratic leadership calling for the temporary extension of the tax cuts for everyone.
Sean West, a U.S. policy analyst at Eurasia Group, told CNNMoney that he wouldn't be surprised to see a compromise struck near $1 million. His reasoning: Obama, in many recent speeches, has made a point of saying the country can't afford to borrow $700 billion "to give a tax cut worth an average of $100,000 to millionaires and billionaires."
To West, that suggests some space for compromise to offer tax cuts to people making up to a million.
Raising the income threshold "is the type of deal that could give both sides cover," West wrote in a recent research note. Obama would still be able to say he was raising taxes on the richest of the rich, and Republicans who say that many small businesses would get hit by the $250,000 threshold could "come on-board."
Roberton Williams, a senior fellow at the Tax Policy Center, has already estimated that under Obama's proposal, only about 1.7% of households or 2.7 million taxpayers would end up paying more in taxes in 2011.
But their bigger tax bite would not come primarily from the hike in their top two income tax rates. Much of the increase in their bill would result from the higher investment tax rates that would kick in for upper-income families -- capital gains and dividends would be taxed at 20%, up from 15% currently.
The Tax Policy Center hasn't done a comparable analysis of the impact if taxes went up only for those making more than $500,000 or $1 million.
But Williams offered a ballpark estimate: Letting the tax cuts expire just for those making over $500,000 would cut in half the number of households paying more tax. Limiting the expiration to millionaires-plus would raise taxes on fewer than 500,000 households.
Both West and Anne Mathias, research director at Concept Capital's Washington Research Group, believe that whatever compromise is ultimately struck, it won't involve the word "permanent."
A one- to two-year fix is more likely, they say, in part because of the high cost of making the cuts permanent.