Education stocks get slammed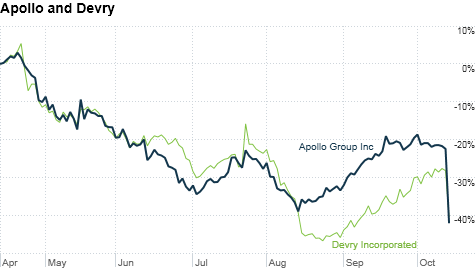 NEW YORK (CNNMoney.com) -- Education stocks were the biggest losers Thursday, led by Apollo Group, whose stock hit a four-year low after the company withdraw its business outlook for 2011.
Shares of Apollo (APOL), whose University of Phoenix is the largest for-profit educational institution, sank 23%, making it the biggest decliner on the S&P 500. The company cited mounting regulatory scrutiny and declining enrollment for pulling its forecast. Devry (DV) was the second-biggest decliner on the S&P 500, with its stock sinking nearly 17%.
For-profit education programs have been under intense pressure lately as the Department of Education works to establish stricter regulations that require the schools to better prepare their graduates for the workforce with "gainful employment" or risk the loss of federal student aid.
Meanwhile shares of Corinthian Colleges (COCO) plummeted 20%. ITT Educational Services (ESU), Bridgepoint Education Inc. (BPI) and Career Education Corp. (CECO), which owns brands including Le Cordon Bleu, plunged 15%. Shares of , Grand Canyon Education Inc. (LOPE) and Washington Post Co. (WPO, Fortune 500), which own Kaplan, also tumbled.
"While a majority of career colleges play a vital role in training our workforce to be globally competitive, some bad actors are saddling students with debt they cannot afford in exchange for degrees and certificates they cannot use," Education Secretary Arne Duncan said last month.
Apollo released its fiscal-fourth quarter results late Wednesday. Both profit and revenue barely nudged ahead of analyst estimates. At the same time, the company invalidated its previously reported guidance for "high-single digit" revenue growth and "flat" operating income in fiscal 2011.
The company blamed an "uncertain regulatory environment," adding that the increased scrutiny has led to "heightened media attention, much of which has portrayed the sector in a negative light."
Apollo also said that drop in new enrollment at the University of Phoenix is expected to accelerate in the upcoming quarter.
Apollo added that the school is developing strategies designed to enroll students who have a "greater likelihood to succeed" in its programs.
"The entire for-profit education industry is going through a major transition in its business model, and Apollo is trying to be proactive by making changes instead of waiting before they become necessary," said Arvind Bhatia, analyst at Sterne, Agee & Leach. "That will force the other industry players to follow suit. It will be a painful process for the company earnings and for investors, but it has to be done sooner or later."
Though it could take years for schools to change their practices so they are compliant with government rules and reset their earnings, Bhatia said the stocks will become attractive again once they are able to start with a clean slate.