Housing mess: You can't stay if you don't pay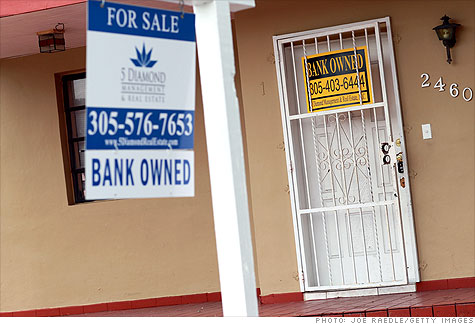 NEW YORK (CNNMoney.com) -- Just because a lender screwed up your foreclosure paperwork doesn't mean that you get to stay in your house for free.
Of course, plenty of enterprising lawyers will try to tell distraught homeowners otherwise.
But the best that most delinquent borrowers can hope for is that the current flap over foreclosure documents will prompt financial institutions to grant more affordable loan modifications, experts said.
Even if the banks didn't have the paperwork required to foreclose, "that doesn't mean you'll get a free house at the end of the day," said Ira Rheingold, head of the National Association of Consumer Advocates. "There is no panacea here."
The nation's largest servicers, including Bank of America (BAC, Fortune 500) and JPMorgan Chase (JPM, Fortune 500), are currently reviewing their foreclosure paperwork and practices after court proceedings revealed major problems. Some banks were having employees sign thousands of documents a month without reviewing their content, while others never filed the proper notices to update a mortgage's ownership in the public records after it was securitized.
Federal regulators are now requiring servicers to clean up the mess, while attorneys general are investigating their practices. Several institutions have halted foreclosure proceedings and sales until their reviews are completed.
Meanwhile, lots of lawyers are trying to capitalize on the confusion by promoting their foreclosure rescue services to troubled borrowers. But homeowners should beware of scams, Rheingold said, because if you can't make your payments, they ultimately can't help you.
Anyone who's behind on their mortgage needs to recognize their ability -- or lack thereof -- to make their payments, he said. Homeowners who are unemployed, or who just don't have the money to catch up, should call a housing counselor or legal aid attorney to find the best way out of the house.
"Unless you fix the underlying economic issue that got you into foreclosure, not much has changed [with the document flap] except you'll get more time," said Doug Robinson, spokesman for NeighborWorks America, a housing advocacy organization.
But homeowners who can afford a reduced payment might be in luck. The current spotlight on foreclosure practices may make servicers more inclined to negotiate a loan adjustment. Under the circumstances, they may find it cheaper and faster to adjust a mortgage than to straighten out all the documentation and foreclose.
Indeed, servicers have completed 1.3 million modifications so far this year, but consumer advocates say they could be doing much more. All told, there are 3.1 million loans in foreclosure, according to a Morgan Stanley analyst report.
"The paperwork problems will create an added incentive for the banks to consider loan modifications," said Kathleen Engel, Suffolk University law professor and co-author of the forthcoming book "The Subprime Virus."
The temporary freeze that some banks have placed on the foreclosure process gives homeowners time to press for a modification or to find a job so they can afford their current payments. Their first stop should be a housing counselor, who can provide free assistance in negotiating with the banks.
"All the foreclosures that are happening are not inevitable," said Alan White, a law professor at Valparaiso University.