A town saved by stimulus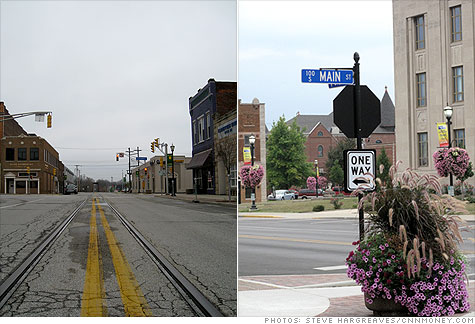 KOKOMO, Ind. (CNNMoney.com) -- Kokomo is going back to work.
A year and a half ago the fate of this car town, home to four Chrysler plants and a Delphi facility, was as uncertain as the American auto industry itself.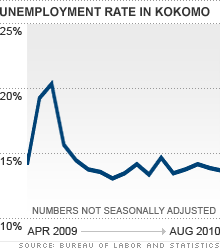 Now, thanks largely to the federal government, the town's unemployment rate has gone from over 20% to under 14%.
Economists disagree over the real nationwide impact of the massive stimulus jolt orchestrated by President Obama. But here in Kokomo, the Recovery Act and Obama's auto bailout have jolted Kokomo back to life -- keeping big industry from fleeing and attracting newcomers as well.
"We wouldn't be standing here," said Brian Harlow, a 32-year Chrysler veteran who grew up in Kokomo and now is based at the company's headquarters outside Detroit. "It would have been a ghost town."
Chrysler, which had idled 3,500 hourly workers in Kokomo a year and a half ago, recently announced $350 million in new investments that will make the city the hub of North American manufacturing for its next-generation transmissions. All those people have been put back to work, and 700 others have been hired.
Auto parts manufacturer Delphi will use an $89 million stimulus grant to retain 100 manufacturing jobs and make 100 additional hires at a facility building parts for hybrid vehicles. (Kokomo then: A town on the brink)
And a Colorado solar company plans to use $300 million in stimulus funds to hire as many as 900 workers at an old Daimler auto plant south of town that will make products to export to Europe.
Even the downtown looks better. The mayor leveraged $800,000 in stimulus funds to help with a revitalization project that has netted 11 new stores since the start of the year. (Photo gallery: Kokomo today)
For sure, Kokomo still faces big challenges. The fate of a huge manufacturing facility Delphi recently sold to General Motors -- and its 1,200 workers -- is uncertain. And the housing market is in the toilet.
The mood in Kokomo is optimistic, if cautious.
"I wouldn't say it's done a 180, more like a 120," said Cliff Pitcher, an electrician and 20-year veteran at Chrysler who was decidedly more downbeat when CNNMoney last visited Kokomo. "They're trying," he said of city officials. "I have to back them on that."
How they're getting it done
From government managers to corporate execs, nearly every leader in Kokomo attributes the turnaround to the federal government's willingness to step in.
"We would not be manufacturing in the United States if it wasn't for the stimulus money," said Lisa Hardwick, Delphi's plant manager, during a tour of the facility.
Delphi just opened a factory -- just outside of town amid fields of corn and soy -- making a component central to 21st century transportation: the brains of a hybrid car.
The product is a circuit board measuring about a square foot in size. The board tells a hybrid car when to switch from electric to gas power, converts the 600-volt battery juice to a more dashboard-friendly 14 volts and regulates other electronic functions within the engine.
Delphi has contracts to supply these boards to Allison Transmission, which makes parts for hybrid buses, as well as General Motors, Ford Motor and Coda Automotive. (See correction below.)
With Coda, the plan is to send the boards to China, put them in electric cars, and then ship the cars back for sale in the United States.
Hardwick said the company chose to expand in Kokomo for many of the same reasons executives from other companies cited: existing operations, generous tax incentives and a skilled workforce.
Back in town at a Chrysler plant, workers are churning out 1,600 transmissions a day. They'll soon be making the company's new 8-speed automatic transmission.
New workers are being hired at $14 an hour instead of the old $28, but that's the case at auto plants across the country and reflects a world where factory work doesn't command the wages it once did. (Video: A day on the auto line)
Back to the core
Downtown, it's anything but ghostly.
Kokomo's mayor, along with other city officials, used stimulus money to revamp the dying town center and lure shoppers back from the neon strip of chain stores and traffic lights that ring the city's eastern side.
Flowers were added, curbs and sidewalks were expanded. Gone are the traffic lights that used to encourage motorists to speed though intersections in a race to make the next green light. They have been replaced with stop signs that bring traffic to a more pedestrian-friendly pace and allow drivers to look around the new downtown.
"I see a lot of people walking down here now, even at night," said Tashia Johnson-St.Clair, who used small business loans provided by the city to open a candied popcorn store called Sweet Poppins.
Across the street, 26-year-old Blake Kinder is using recycled antique wood and glass to open up an Irish bar in what was once a Chinese restaurant.
Kinder said the city's designation of the downtown as a redevelopment zone allowed him to get a state liquor license, normally valued at over $100,000, for a mere $1,000.
"I'm not a big city guy," said Kinder, who nonetheless has lived in Las Vegas and London. "Kokomo is my comfort zone, and I believe I have something to give back to the town."
Mayor Greg Goodnight, who spent 13 years on the floor at a local steel factory before becoming the plant's union leader, said the downtown's revival is part of a larger plan to grow Kokomo's economy by making it a place where people want to live.
"Good schools, more parks, low-cost government," Goodnight said. "This has to be a place that people want to call home."
Correction: An earlier version of this article incorrectly identified Coda Automotive as a Chinese company.