A big test for Nissan's Little Carlos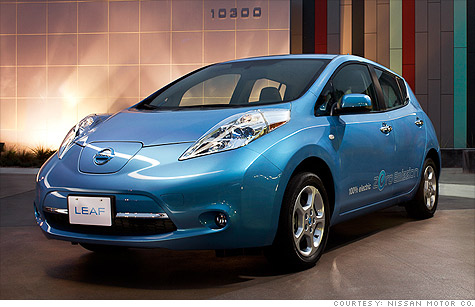 FORTUNE -- As he campaigns on behalf of Nissan's Leaf electric car, there's an analogy Carlos Tavares likes to draw.
When the first wireless phone was introduced in 1983, Tavares tells his audience, it was nine inches long, weighed two-and-a-half pounds and was known as "the brick." It was capable of just three functions -- dial, talk, listen -- and could operate only 35 minutes after ten hours of charge time. Its cost: $3,500 then, $10,000 in today's money.
Tavares' point: Technology evolves quickly and the battery-powered Leaf's 100-mile range and $32,500 price in 2011 are only starting points in its development.
He'd better make sure that it does. To leapfrog General Motors and Toyota (TM) and make itself the leader in zero-emission automobiles, Nissan is putting its corporate reputation on the line with the Leaf, and Tavares (ta-var-ES) is leading the drive in North America.
His success or failure will likely determine whether he succeeds Carlos Ghosn as CEO of Nissan, or of both Nissan and its corporate partner, Renault.
Around Nissan, Tavares, 52, is already known as "Little Carlos," to distinguish him from "Big Carlos" Ghosn. The two men share other similarities. Both speak Portuguese, Tavares from having been raised in Portugal, Ghosn, 56, from being born in Brazil. Both graduated with engineering degrees from prestigious universities in Paris.
Both men also share unquenchable ambition, but their styles differ. While Ghosn epitomizes the global business big shot, moving from hotel room to hotel room in well-tailored suits with an entourage trailing in his wake, Tavares looks like a soccer player who fought his way into the executive suite. Compact and athletic, he usually wears a smile that is both friendly and challenging at the same time.
Now one of Nissan's six top executives, Tavares resides in Tokyo and Nashville, Tenn., where he oversees the automaker's operations in the Americas.
He has imposed a focus and direction on Nissan's U.S. business that had been lacking since it moved from Southern California to Tennessee in 2006, even though it has been selling cars here for more than half a century.
Tavares has set a goal of increasing Nissan's market share by one percentage point a year. Besides launching vehicles in new segments like the Leaf and the Juke, a compact crossover vehicle, he is trying to create an image for Nissan to replace the blank in most people's mind.
Urban legend has it that Nissan lost its U.S. identity when it changed its name from Datsun in 1986 and never recovered. While Toyota is known for its quality and reliability, and Honda (HMC) for its innovative engineering, Nissan, with its weaker dealer network, is seen as a company that survives on the strength of promotions and clearance sales. Successive attempts to establish it as an equal among the Big Two in performance and design, haven't registered with the public.
Tavares believes the Leaf will change that by giving Nissan an opportunity to introduce itself to a whole new group of customers. Tavares says 85% of the first 20,000 people who have placed reservations for the Leaf have not previously owned a Nissan.
"[Leaf] is a brand builder," Tavares told Automotive News. "We want people to see us this way. We discovered that innovation has always been there in the products we did in the past. But we were never able to express it in a single way."
Nissan is putting a huge push behind Leaf. It will produce up to 150,000 cars and their battery packs at its plant in Smyrna, Tenn. beginning in 2012. By contrast, GM will have the capacity to build only 60,000 plug-in hybrid Volts at a Michigan plant that it will share with the Chevy Malibu.
Since, unlike Volt, Leaf will not have a gasoline engine as a backup, Tavares is doing all he can to eliminate "range anxiety."
Leaf customers will be able to monitor the strength of their batteries with their smartphones, as well as get an estimate of the amount of time required to charge up.
Tavares is also counting one-by-one the number of public chargers available nationwide for electric car owners and expects 12,000 to be up and running in 19 states by the end of next year. To date, the numbers range from one in Wisconsin to 3,670 in California.
Tavares need to pick up the pace if he plans to make his market share target 2010. Nissan has only gained four-tenths of a point this year, to 7.8%, and has relinquished its number six position in the U.S. market to Hyundai/Kia.
Leaf alone will not be enough to make up the difference but it should go a long way to raising Nissan's -- and Little Carlos' -- profile.