The Chevy Volt's identity crisis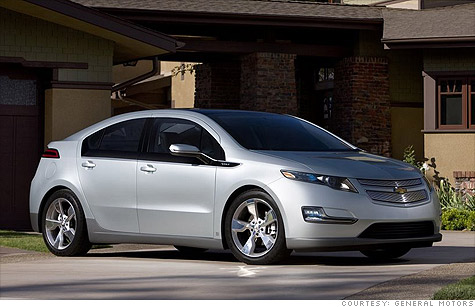 FORTUNE -- General Motors recently rolled out production models of its 2011 Chevrolet Volt for journalists to evaluate in a series of carefully-managed press events.
Since this is the most-hyped vehicle launch since the 1958 Edsel, let me cut right to the chase: GM has lived up to its promise to "provide the benefits of an electric vehicle without the range limitations of electric vehicles" by marrying a battery-powered drive and a gasoline engine with surprising refinement.
Which is not to say that the press event that concluded Wednesday was without incident.
A brouhaha erupted over whether the Volt is, in fact, a true electric vehicle, since GM recently disclosed that the gasoline engine kicks in to deliver extra oomph during moments of peak battery-powered acceleration. That slight departure from the norm caused Edmunds.com, the popular car-buying website, to declare, "GM lied." But potential customers aren't expected to quibble, and the controversy is likely to vanish into the blogosphere.
Then a Volt I was riding in developed a "software glitch" when the hybrid powertrain failed to make the transition from electric to gasoline power. The glitch caused the engine to slowly die while we coasted -- without incident -- to the exit of a busy interstate highway. GM said it was a diagnostic problem, and it was on the case.
Such distractions aside, it is important to step back from the engineering of the car itself and ask what has GM wrought?
Is the Volt a revolutionary new concept that establishes GM as a technological avatar ? Or it is a well-built $41,000 compact car that can reduce your trips to the gas station?
Developing the Volt has been enormously expensive. GM admits to spending more than $700 million to build and refurbish research, engineering, and manufacturing facilities responsible for the Volt -- and that doesn't include tens of millions of dollars invested in the development of the car itself.
GM executives are quite candid in stating that it is very difficult to make money on the first generation of a car as complex as the Volt and almost as hard for the second generation as well.
In fact, any significant profitability will be impossible unless GM can extend the Volt architecture to other vehicles in its lineup, and so far it has not disclosed any intention to do so. The volumes of the current car are simply too small to amortize the cost -- even if GM were not losing money on every Volt it builds, as it likely is.
But profitability was not the Volt's primary objective. It was frankly designed to blunt the public relations impact created by the success of the Prius. GM wanted to top Toyota's (TM) hybrid with a battery-powered car but without confronting the inevitable range issues that afflict all such vehicles. That explains why it developed the novel concept of a battery-drive backed up by an old fashioned gasoline engine (and why it resolutely refuses to use the term "hybrid" in describing Volt, despite the existence of the dual powertrains).
If it sounds odd that a company headed for bankruptcy was investing in money-losing projects for their publicity value, consider that GM announced Volt to the public in December 2006, just as it was beginning the string of multi-billion-dollar losses that resulted in its collapse in 2009.
And more than most companies, pre-bankruptcy GM had a penchant for high-profile research projects that promised little payoff. In 1996, it started production of its first battery-powered car, the EV1, only to halt production in 1999 at a cost of $1 billion.
After that, the company engaged in a prolonged flirtation with fuel cells, notably promising to develop a saleable prototype by 2010. GM is still working on fuel cells, but there is no sign of them becoming commercially viable anytime soon.
As for the Volt itself, GM has succeeded in what it set out to do. For people who are interested in making an environmental statement (and can afford to do so), the car is a reasonable solution.
The styling may be a bit extroverted for everyone's taste, but there is room for four adults to travel comfortably inside, and a gee-whiz touch-sensitive instrument panel that produces flashy graphics.
On the road, the Volt feels heavy (the batteries weigh 400 pounds) but is free of the hesitations and shudders that afflict most hybrids when they shift between gasoline and electric power. It is quiet, smooth and decently peppy, with a zero-to-sixty time under nine seconds.
Under electric power, the Volt proved it can run in traffic for 45 miles or so; it goes shorter distances when traveling highway speeds. After the battery has been fully discharged, the car shifts over to gasoline power silently and invisibly (assuming no software glitches).
GM hopes to convince buyers that that they can use the Volt as their primary vehicle, and it will tantalize them with bargain-basement lease rates of $350/month. By 2012, it hopes to be building and selling 60,000 Volts a year.
What the Volt won't be doing is adding to the company's bottom line. That was acceptable at the old GM. It will be interesting to see how Volt fares with the results-oriented management that is now running the company.