Autumn activist planting season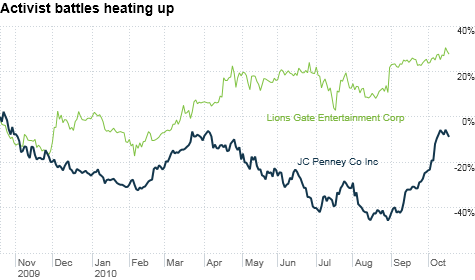 NEW YORK (CNNMoney.com) -- Farmers plant their seeds in spring to harvest their crops in the fall. The shareholder activist typically does just the opposite - harvests take place during proxy season each spring, but the seeds of these profit-making campaigns are planted in the fall.
With Autumn's rich pageant in full swing, here's what two of those activists are up to.
Pershing Square vs JC Penney
Bill Ackman's Pershing Square hedge fund has amassed a major position in JC Penney (JCP, Fortune 500), buying up common stock, call options and swap contracts, according to a 13D filing.
That makes Ackman's economic interest of around $900 million equal to just under 40 million shares -- a 16.5% stake.
JC Penney was swift to react to the move by announcing a poison pill, a strategy the board is using to make further purchases by Ackman highly dilutive, thus keeping him at bay.
Penney's is no doubt studying the battle that Pershing Square fought with fellow retailer Target (TGT, Fortune 500). That activist campaign was soundly crushed at Target's shareholders' meeting in May 2009.
It should be noted that while Ackman failed to get any of the four board seats he was pushing for, he did retain a sizable stake in Target and has certainly benefited from the stock's rebound. Shares have rallied 38% since that meeting.
Pershing Square will undoubtedly be making a case here that, as with Target, shareholders would be best served by a spin-off of the company's underlying real estate into a REIT structure.
JC Penney owns the real estate that houses 416 of its stores and 15 of its distribution centers, according to activist research firm 13D Monitor. And Pershing Square noted in its filing that Vornado Realty Trust (VNO) owns a 9.9% stake in JC Penney, clearly a sign that property is a large part of the undervaluation thesis.
Ackman has proven his acumen in unlocking real estate value. His foray into reorganizing General Growth Properties has been a massive home run - netting Pershing Square profits of over $1 billion so far.
With JC Penney's 12 board members claiming zero real estate experience in their proxy statement, the company's going to need a lot more than a poison pill to stop this activist.
Icahn and Lionsgate
One of the rarest and most exciting developments in the realm of shareholder activism is when an adversarial relationship turns into a partnership with the goal of accomplishing something special for shareholders.
Prior to this fall, Lionsgate (LGF) and legendary activist Carl Icahn were locked in the corporate equivalent of a steel cage match - tender offers, televised debates, dueling letters to shareholders, poison pills - you name it.
Now, it would appear the two sides have a common goal: the acquisition of the vaunted MGM film library. MGM Studios has been negotiating a sale for months, first with Time Warner (TWX, Fortune 500) and most recently with fellow studio Spyglass Entertainment.
MGM's creditors are willing to accept equity in a merged entity, provided the new managers have the expertise to monetize a treasure trove of films including the James Bond series and a host of classic monster movies.
Enter Lionsgate, a studio renowned not just for its slate of independent box office winners, but also for its ability to consistently churn out revenues from its library -- no easy feat in an era of plummeting DVD sales.
Lionsgate, with the support of one-time nemesis and major shareholder Icahn, has just come back to MGM's bondholders with an offer for 55% of a combined LGF-MGM. Lionsgate shareholder stakes would be diluted at the beginning, but over the long term shareholders would be in possession of perhaps the greatest film library ever assembled.
In addition, the combined company could cut the red tape and begin production of "The Hobbit," Peter Jackson's "Lord of the Rings" prequel that has been frozen because of MGM's film rights.
As of this writing, MGM's management has given its 100 or so creditors just days to decide on which proposed deal they prefer.
News is expected on this front any day now.
With the stock of Lionsgate trading just pennies below Icahn's original tender offer price of $7.50 a share, it would appear that the activist sees even bigger potential should the MGM deal go through.
Joshua Brown is a New York City-based financial advisor at Fusion Analytics and the author of The Reformed Broker blog. The commentary above is for informational purposes only and does not in any way constitute a solicitation to buy or sell any securities.