Health reform's side effect: Scams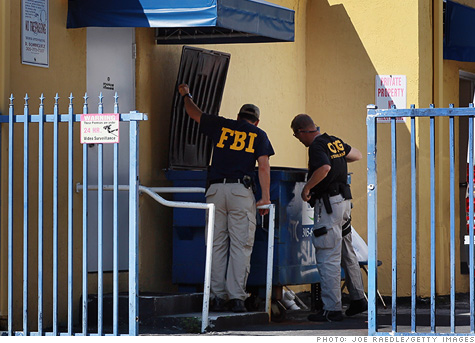 NEW YORK (CNNMoney.com) -- Fraud experts say health insurance scams are on the rise as criminals quickly exploit consumers' confusion about how the new health care law changes their insurance coverage.
Most of the schemes are poorly constructed, using the pretext of reform. "So far there's no major criminal organization behind them," said James Quiggle, spokesman for non-profit group Coalition Against Insurance Fraud.
But Quiggle is concerned that as more of the provisions mandated by the new law are phased in over the next four years, these scams "could grow to become an all-encompassing tsunami."
The government has taken note. Earlier this year, Health and Human Services (HHS) Secretary Kathleen Sebelius warned state insurance commissioners about new schemes to sell bogus insurance policies.
Last week, HHS announced grants to states to strengthen ongoing efforts to protect consumers from some of the worst insurance industry practices.
Consumers beware: Sally Hurme, who handles consumer fraud issues at AARP, said seniors are especially vulnerable to these new scams. "We're making a concerted effort to get the word out to our 40 million members," she said.
But seniors aren't the only targets. People who buy insurance out of pocket -- unemployed individuals, underinsured individuals, as well as individuals who do not get dependent coverage through their work -- are also vulnerable, said Lou Saccocio, head of the National Health-Care Anti-Fraud Association, whose members include insurers, law enforcement and regulatory agencies.
Saccocio, citing anecdotal information, said the most common scams involve selling fake health plans, fraudulent medical discount plans and Medicare rebate checks scams.
Here's what to watch out for:
Phantom government coverage: Scammers, claiming they represent the government, go door-to-door selling fake policies. "These crooks tell people without insurance that the law requires them to buy a policy immediately," said Quiggle. "They also say there's a limited enrollment period to sign up."
Both claims are false. There is no enrollment period in the individual market. And the law gives uninsured individuals until 2014 to buy coverage before having to pay a penalty.
Fraudulent discount plans: Crooks are taking advantage of heightened concerns about health insurance costs to sell people "discount plans" disguised as insurance plans, said Kim Holland, Oklahoma's insurance commissioner.
Holland said these medical discount plans are not insurance policies. These plans only provide discounts on some medical services. The Federal Trade Commission said 24 states have filed 54 lawsuits this year to stop this deceptive practice.
"Some states have outlawed these plans," said Holland.
$250 Medicare rebate scam: For beneficiaries who've fallen into the prescription-drug coverage gap known as the "doughnut hole," the law created a program this year where the government mails them a $250 check to cover the gap.
Quiggle said scammers are exploiting this opportunity by calling up seniors, asking for their Social Security and Medicare beneficiary numbers, and promising to expedite the checks.
The crooks will then use the information to bill Medicare for false services.
AARP's Hurme said the group has also become aware of a Medicare card scam. "Scammers are telling seniors that because of the changes in the law, they will have to send them a new card," she said. And they ask for their personal information.
"This is blatant identity theft," Hume added.
Peter Ashkenaz, spokesman for the Center for Medicare & Medicare Services, said the agency was aware of anecdotal reports of such scams.
"We have aggressive efforts in place to educate beneficiaries that they do not need to do anything to get the $250 rebate checks," he said.
How to protect yourself
As key provisions of the health care law continue to be phased in, scammers will try to take advantage of consumers who aren't aware of the new changes.
Coming up in January, Medicare beneficiaries will not have to pay co-pays on preventive services. Ashkenaz said scammers might try to exploit that change.
Experts stress the need for consumers to educate themselves about the new law. The National Association of Insurance Commissioners also offered these tips on how to avoid being a victim.
Beware of fax, email, telephone poll solicitations: Be especially suspicious of solicitations that are blasted to consumers through these means.
Check if insurer is legit: Don't give out any personal information such as your Social Security numbers or bank information until you verify with your state insurance department that the insurer and agent are licensed to write insurance in your state.
Keep paperwork: Ask for copies of all of the paperwork you sign. Keep a copy of the payment receipt or check for your initial premium payment.
30-day deadline: Call the insurer if you don't receive a copy of your insurance policy outlining your coverage within 30 days of your purchase.
Medicare beneficiaries: If you are approached to buy any kind of medical insurance package, do not give any personal information to anyone you don't know.
Additionally, Hurme said the AARP launched a major campaign called "Fight Health care Fraud" in September to educate seniors.
"Seniors can get information on our website," she said. "We're also training volunteers to go to senior centers in various states to educate the community."