Oil prices slide on Fed concerns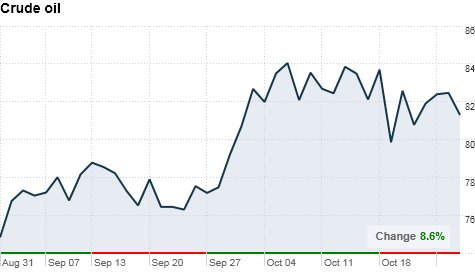 NEW YORK (CNNMoney.com) -- Oil prices fell 1.5% Wednesday, following three consecutive days of advances, remaining in the low-$80 range ahead of the Federal Reserve's highly anticipated policy meeting next week.
Propped by a weakening dollar, oil prices have spiked more than 8% since late August, when the Fed first hinted that it may launch a second round of asset purchases.
Most of the gains were logged in September, and prices have hovered around $82 per barrel this month as investors took a wait-and-see approach leading up to the central bank's announcement, expected at the conclusion of its two-day meeting Nov. 3.
Oil prices came under some pressure Wednesday after a report in the Wall Street Journal said the central bank is likely to buy "a few hundred million" worth of Treasuries over a period of "several months" to pressure interest rates and pump money into the economy. That's far less than market expectations, which have priced in an amount between $500 million and $1 trillion.
"A lot of investors were setting their sights for a larger amount than the figure that's floating around now," said James Cordier, president of Liberty Trading Group. "That's strengthening the dollar so energy commodities and metals are falling."
He said that if the Fed's announcement is on the low end of estimates, crude prices could fall back toward $80 a barrel, but if the amount is near $1 trillion, prices could tick up to $85 a barrel.
Cordier added that fundamentals are also weighing on oil prices, including a larger-than-expected increase in crude supplies.
"It's not driving season and it's not heating season, so we're in a weak demand period," he said. "The world seems to be well supplied, so without speculative interests, oil prices will hold in this tight range."
The Energy Information Administration said crude stocks jumped by 5 million barrels last week. Analysts polled by research firm Platts were expecting a 1.5 million rise.
The government report also showed that gasoline inventories rose by 4.4 million barrels, above estimates for an increase of 900,000 barrels.
Meanwhile, distillates, used to make heating oil and diesel, decreased by 1.6 million barrels. Analysts were looking for a 1.5 million drop in inventories.