The Fed's 'tax on the consumer'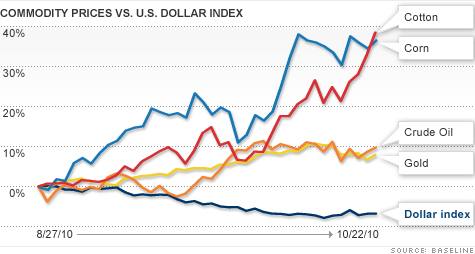 NEW YORK (CNNMoney.com) -- Investors have been cheering about the prospect of the Federal Reserve pumping more money into the economy, but some experts warn that move may wind up hurting consumers' wallets.
Ever since Fed Chairman Ben Bernanke pledged in late August that the central bank would take "unconventional measures" to keep the economy afloat, the S&P 500 (SPX) has climbed more than 11%.
Those 'unconventional measures' would likely be another round of asset purchases, known as quantitative easing, or QE2 for short. The move is designed to boost the economy and lower interest rates. But it would also add further pressure on an already weak U.S. dollar.
Since Bernanke's comments in August, the dollar index has dropped 7%, while commodities -- which are priced in dollars -- have surged. Crude oil has jumped 14%, while gold has spiked 8%. Prices for cotton, corn, sugar, wheat and coffee also have all hit new highs during the past two months.
Ultimately, those lofty prices will trickle down to consumers in the form of higher prices for coffee, bread, pizza, gas, clothing and more.
"The problem I have with QE2, is it behaves like a tax on the consumer," said David Giroux, a fund manager at T. Rowe Price. "People want to believe it's a free lunch for the economy, but it's definitely not. Next year, we're going to be paying more at the gas pump and the grocery store."
American households already spend $340 billion a year on gasoline, according to U.S. economist Paul Dales of Capital Economics. Since late August, the price of a gallon of gas has jumped 4.8%.
All it would take is another 10% increase, and the average cost per gallon would rise above $3, adding $51 billion a year to your household tab, he said. Even a modest 5% rise in food prices would force a family to add about $350 a year to their grocery budget.
High debt trumps lower rates
The yield on the benchmark 10-year Treasury note had been recently pushed as low as 2.33% amid rising speculation about QE2. The yield, used to set rates for mortgages and other loans, has since drifted back above 2.5%. But it's still sharply below the nearly 4% level it was sitting at in April.
Lower long-term interest rates should encourage consumers and businesses to spend more. That, in turn, should lead to more jobs, better housing prices and an overall economic revival.
However, a second round of asset-purchases may not make much of a splash.
"Banks will have a lot more money to lend, and lower rates will make it easier for people to borrow," said Mike Schenk, vice president of economics and statistics for the Credit Union National Association. "But the problem is that that people are still up to their eyeballs in debt and are in the process of paying it down, so it's unclear how much more they'll be willing to borrow."
Plus, mortgage rates are already near record lows, yet the weakness in the housing market continues to linger.
And while looser conditions will make it easier for businesses to raise capital, companies are already flush with cash. They're still not hiring.
"U.S. businesses lack customers, and even zero interest rates won't inspire GE to build factories and add workers if light bulb sales are stagnant," said Peter Morici, a professor at the Smith School of Business at the University of Maryland.
"Without more jobs, prospective homebuyers are too nervous to quit renting or purchase bigger homes," added Morici, a former chief economist at the U.S. International Trade Commission.