Stocks stage big rally, Dow spikes 2%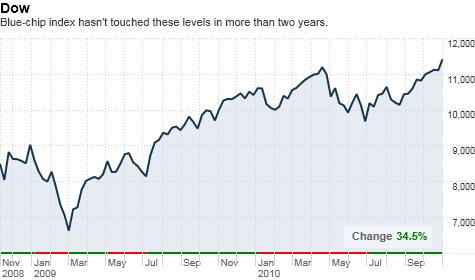 NEW YORK (CNNMoney.com) -- U.S. stocks rallied Thursday, with all three major indexes finishing at two-year highs, as investors continued to cheer the Federal Reserve's announcement to pump $600 billion into the economy.
The Dow Jones industrial average (INDU) jumped 220 points, or 2%. The S&P 500 (SPX) climbed 23 points, or 1.9%, and the Nasdaq (COMP) rose 37 points, or 1.5%.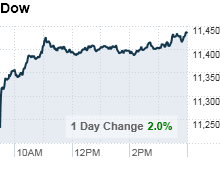 The Fed said Wednesday it will buy $600 billion of U.S. Treasuries by the middle of next year. The additional stimulus, referred to as quantitative easing, is the Fed's latest stab at lowering interest rates and combating deflation -- a move it hopes will help prop the sluggish economy.
The announcement was met with a tepid response Wednesday, but markets around the world surged Thursday. Commodities went along for the ride, with oil jumping 2% and gold rallying 3%. Treasuries also rose as investors looked to get in on the buying action ahead of the Fed.
"QE2 is hitting the market big time," said Peter Tuz, president at Chase Investment Counsel. "The rally really took off overnight with global markets and commodities, then spread to the U.S., and now we're seeing it just take off."
While Wall Street may be happy to finally get clarity about the Fed's plans, investors still have mixed feelings about how effective it will be.
"I think investors are all over the place with their feelings," said J. Bryant Evans, a portfolio manager at Cozad Asset Management. "There's a lot of polarity about whether we even need quantitative easing at this point or whether it's a hindrance."
The end to political uncertainty about the midterm elections -- which resulted in a widely expected Republican victory -- has also given stocks a boost, he said.
"The issue of what was going to happen during the election has been resolved, and a less regulatory, more business-friendly political environment has developed," said Evans. "A lot of it should have been built in to the market already, but what was not built in was the resolution of uncertainty."
News that the Obama administration is open to extending tax cuts to all income brackets provided yet another catalyst to the market's upward trajectory on Thursday.
"That's fuel to the fire," said Tuz. "It gives people the sense that the direction the country took with the election is going to result in positive change -- if you regard stable tax rates as positive change."

World markets: European stocks closed sharply higher. Britain's FTSE 100 rose 2%, the DAX in Germany gained 1.8% and France's CAC 40 jumped 1.9%.
Asian markets ended higher. The Shanghai Composite ticked up 1.9%, the Hang Seng in Hong Kong rose 1.6% and Japan's Nikkei gained 2.2%.
Currencies and commodities: The dollar fell against the euro, the British pound and the Japanese yen.
Oil for December delivery rallied $1.80, or 2%, to $86.49 a barrel.
Gold futures for December delivery surged $45.50, or 3.4%, to a record $1,383.10 an ounce.
Treasury prices also gained, pushing the yield on the benchmark 10-year note down to 2.48% Thursday, from 2.62% late Wednesday. Bond prices and yields move in opposite directions.
Economy: Initial jobless claims surged to 457,000 in the week ended Oct. 30, according to the government's weekly report.
Economists surveyed by Briefing.com had expected 445,000 claims to have been filed. Continuing claims for the week ended Oct. 23 fell to 4.34 million, short of the 4.38 million expected by analysts.
On Wednesday, separate reports on private sector employment and planned job cuts pointed to a cloudy outlook for the job market.
The Labor Department is scheduled to release its key monthly jobs report Friday. Economists surveyed by CNNMoney expect it to show that employers added 68,000 jobs in October after cutting 95,000 in September. But the unemployment rate is forecast to remain at 9.6%.
Investors will be closely watching this report -- the final big event of the week -- for signs of improvement.
"That's a big economic indicator, so [markets] could continue higher if it's a pretty good number or back off a bit if it doesn't show employment is growing," said Tuz.
Companies: Retailers reported strong sales results for October on Thursday, despite the still-struggling economy.
Warehouse club retailer Costco (COST, Fortune 500) posted a 5% gain, excluding gasoline sales and foreign currency impact; while Target (TGT, Fortune 500) posted a 1.5% increase, sending its shares up 3%.
Thomson Reuters, which tracks same-store sales for a group of 28 national chains, expected that same-store sales for the group rose 1.6% last month. Same-store sales measure sales at stores that have been open for at least a year.
Shares of Whole Foods Market (WFMI, Fortune 500) soared 15% Thursday -- making it the S&P's biggest winner -- after the supermarket chain posted a 58% jump in fourth-quarter profit after the bell Wednesday.
Apollo Group (APOL) was the S&P's biggest loser, slipping 8% on reports that the Department of Education is launching a probe into financial aid practices at the University of Phoenix, which Apollo runs.
After the market closed Wednesday, General Motors said it plans to sell about $13 billion in common and preferred shares as part of its initial public offering, one of the largest in U.S. history.