Bonds take a breather after busy week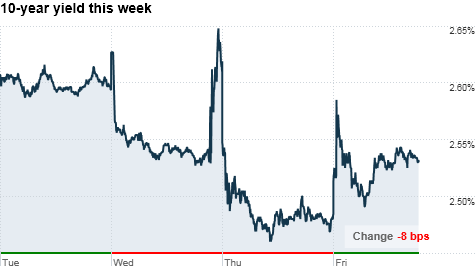 NEW YORK (CNNMoney.com) -- Treasury prices fell across the board Friday after an upbeat jobs report, ending a week of run-ups on a major Federal Reserve decision and midterm elections.
The Labor Department released its monthly labor report Friday that showed the economy added 151,000 jobs in October. The figure was much higher than the 68,000 gain that economists surveyed by CNNMoney.com were expecting.
Upbeat news decreases the appeal of Treasuries, because investors look to plunk their cash in higher-yielding assets. Bad news usually sends bonds higher because they're backed by the U.S. government and considered a low-risk asset.
"This is a big boost for hopes that we're at least on the recovery side of the economic cycle, even if we're not yet in full-blown recovery mode," said Bill Larkin, portfolio manager at Cabot Money Management.
The yield on the benchmark 10-year note rose to 2.54% Friday from 2.48% Thursday. Bond prices and yields move in opposite directions.
The yield on the 30-year bond jumped to 4.13%, the highest level since July 13. The 2-year note yielded 0.33%, and the 5-year note climbed to 1.1%.
A busy, bond-focused week: "This week has been the Super Bowl of economic releases as far as bonds are concerned," Larkin said.
Treasuries had climbed steadily in advance of Wednesday's announcement from the Fed. The central bank said it will purchase $600 billion of Treasuries by the second quarter of 2011. The 10-year yield spiked after the decision Wednesday.
Most of the central bank's purchases will be in medium-term Treasuries, such as 5-year and 7-year notes. While 91% of the Fed's purchases will be Treasuries dated up to 10 years, only 6% were Treasuries with maturities of more than 10 years. That led investors to flee longer-dated securities after the announcement Wednesday.
Larkin said yields of longer-term securities will move even higher, with the 30-year rising as high as 5%, a few months down the road when investors begin anticipating the end of the purchase plan.
As part of its plan, the Fed will also continue to reinvest an additional $250 billion-300 billion with the proceeds of its earlier investments, bringing total purchases up to $900 billion.
Bond prices also moved higher Tuesday, the day of midterm elections. Experts said the Republicans' election triumph was already priced in to the markets.