Commodities gone wild! Prices spike post Fed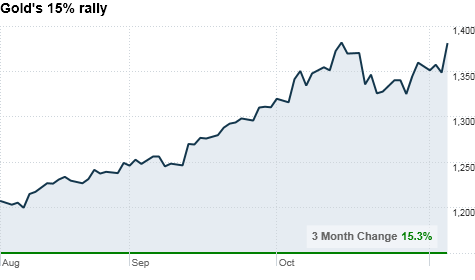 NEW YORK (CNNMoney.com) -- Commodity prices have been on a tear since the Federal Reserve hinted back in August that it was prepared to take aggressive action to help boost the economy. The big announcement finally came, and a day later commodities are staging a massive rally.
The Fed said Wednesday afternoon that it will buy $600 billion of longer-term Treasuries by mid-2011. That caused the U.S. dollar to slide and helped give a giant boost to oil, gold, coffee, sugar and silver.
Commodities remain in the spotlight because the Fed's asset purchases will put pressure on an the already weak U.S. dollar. Since commodities are priced in dollars around the world, a lower greenback makes it cheaper for foreign investors to buy.
"The Fed is basically printing money with these purchases, which weighs heavily on the dollar," said Carlos Sanchez, precious metals analyst at CPM Group. "This is what the commodity market wanted."
Crude oil for December delivery hit a six-month intraday high Thursday, rising above $86 a barrel for the first time since May 3.
But precious metals were shining even brighter. Gold settled at a record high, rising $45.50, or 3.4%, to $1,383.10 an ounce. Silver prices skyrocketed 5% to a 30-year high of $25.68 an ounce.
"Metals are going to keep benefiting from the uncertainty in the markets," Sanchez said. "We expect continued strong demand, especially for gold and silver."
Most of the so-called "consumer" commodities were also sharply higher Thursday, with coffee soaring 5.3%.
But some economists are worried commodities will head even higher in the next few months as a result of the Fed's more aggressive policies. Crude oil prices have jumped 6.3% in the past month alone, while gold is up 5.1% in the same period.
Sugar, cotton, corn and wheat have all hit new highs over the past two months. Those price hikes could start hitting consumers' wallets soon. High cotton prices will translate into higher clothing prices, while an increase in corn and wheat prices could result in higher prices for chicken, meat, pizza, pasta and bread.