Don't believe the Yahoo takeover hype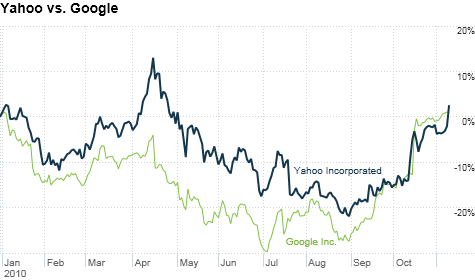 NEW YORK (CNNMoney.com) -- Hooray for Yahoo! It's finally beating Google at something.
Thanks to a new round of takeover rumors, Yahoo's stock was up 5% Tuesday afternoon. That move puts Yahoo (YHOO, Fortune 500) shares in the black for the year. They're now up about 3% in 2010, while Google's stock is up less than 1%.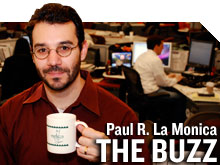 Of course, I'm being super-sarcastic. Google (GOOG, Fortune 500) continues to gain momentum in online search. And thanks to Android and display advertising-heavy businesses (i.e. videos and banners) like YouTube and DoubleClick, Google is proving that it has finally found success beyond keyword ads.
The best thing you can say about Yahoo these days is that it might get put out of its misery as a public company if it's taken private.
According to a report from Reuters, private equity firms are supposedly trying to convince Alibaba CEO Jack Ma to join a bid for Yahoo. That would be a delicious twist, since Yahoo currently owns a 40% stake in Alibaba, one of the top online firms in China.
A separate report in The New York Post indicated that private equity shop KKR (KKR), the legendary firm behind the RJR Nabisco leveraged buyout in the late '80s, may also be talking with Yahoo about a deal.
There's also still chatter about AOL (AOL) hoping to team up with other private equity firms as a way to buy Yahoo. AOL would need help since its market value is just $2.8 billion, compared to Yahoo's market value of $23 billion.
A spokeswoman for Yahoo said the company had no comment about the various takeover rumors. But several experts aren't buying the merger talk. Neither should investors.
Steve Weinstein, an analyst with Pacific Crest Securities in Portland, Ore., points out that it wasn't that long ago that Yahoo had an offer from Microsoft (MSFT, Fortune 500) that the company rejected. Granted, that was when Yahoo co-founder Jerry Yang was calling the shots as CEO.
But Weinstein said it's possible that investors buying into takeover rumors now could get burned just as they did in 2008 after Microsoft finally gave up trying to buy Yahoo.
He said he thinks current CEO Carol Bartz, who only joined Yahoo last year, is more interested in getting the company's revenues growing again than selling Yahoo.
"I'd be cautious. There are people buying Yahoo with the expectation that it will be acquired at a higher value. If that doesn't materialize, those investors could quickly become sellers," Weinstein said.
But for argument's sake, let's say that Bartz does decide she's amenable to the idea of a takeover. Even if Yahoo did finally sell out, it probably wouldn't agree to do so for the stock's current price of $17 and change.
Tim Boyd, an analyst with MKM Partners in Stamford, Conn., said that Yahoo management would probably balk at any offer below $23 a share. At that price, Yahoo's market value would be approximately $31 billion.
My colleague Dan Primack at Fortune has already written a great piece that details why it would be nearly impossible for private equity companies to come to an agreement on a Yahoo deal.
Boyd agreed that a Yahoo purchase would be an extremely difficult transaction for private equity firms to pull off unless they had help from another strategic partner, such as Microsoft or News Corp. (NWSA)
Rupert Murdoch's media company, which owns the foundering MySpace social network, has been frequently mentioned as a potential suitor for Yahoo.
But the more parties that get involved in the mix, the more complicated a Yahoo deal becomes. That would make a takeover far less likely.
Boyd also noted that Yahoo, despite its challenges, would probably be foolish to hitch its wagon to AOL. While AOL has done a good job of convincing people that it may be cool and relevant again, thanks to recent purchases of TechCrunch, 5Min and Thing Labs, AOL's financial results are still a train wreck.
AOL reported last week that its display advertising sales fell 14% in the third quarter. AOL, like Yahoo, is a turnaround story in progress.
Merging Yahoo and AOL won't create a company that can effectively compete with Google and Facebook in the display market, Boyd argued. It would just create a bigger company that's still struggling.
"I understand the intuitive appeal of combining the display businesses of AOL and Yahoo. It would create critical mass," he said. "But given that AOL's display business is still doing poorly, I am not sure why Yahoo would want to merge with AOL and have that be an albatross."
- The opinions expressed in this commentary are solely those of Paul R. La Monica. Other than Time Warner, the parent of CNNMoney.com, and Abbott Laboratories, La Monica does not own positions in any individual stocks.