GM to unveil new Buick hybrid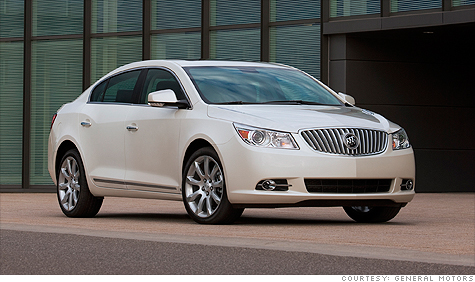 NEW YORK (CNNMoney) -- General Motors will unveil a hybrid version of its popular Buick LaCrosse sedan this week at the Los Angeles Auto Show. But don't expect GM to call it a hybrid.
The new car, which uses a 4-cylinder engine and a lithium-ion battery pack, is expected to get 37 miles-per-gallon on the highway and 25 mpg in the city. Compared to the current 4-cylinder LaCrosse, the hybrid will provide roughly 25% to 30% better fuel economy.
This new version will go on sale for the 2012 model year, replacing the non-hybrid 4-cylinder LaCrosse. Customers will then be able to choose either a 6-cylinder LaCrosse or the hybrid car, both starting at about $30,000, according to GM executives.
GM won't call the car a hybrid, however, even though the term fits. Instead, the automaker is calling the fuel-saving system used in the new LaCrosse "eAssist."
The system is an improved version of the mild-hybrid system used in the Chevrolet Malibu Hybrid, which was available in the 2008 and 2009 model years, but found few buyers.
LaCrosse's eAssist has a more powerful battery pack -- in addition to other enhancements -- resulting in a much greater fuel economy gain, than the extra 3 mpg buyers got in the Malibu Hybrid. In designing this new system, engineers used information they learned in developing the Chevrolet Volt and GM's big hybrid SUVs, said Jim Federico, GM's executive director for compact and electric vehicles.
The new battery and more efficient electric motors provide greater assistance to the gasoline engine, so the car can go short distances at higher speeds without the gasoline engine running.
Besides better fuel economy, there are other reasons to think this hybrid might fare better than GM's last try.
For one thing, there will be no non-hybrid version selling for less money alongside the new hybrid car. Also, by not using the word "hybrid" in describing the car, GM is avoiding comparisons to cars like the Toyota Prius or the Lincoln MKZ hybrid, said Buick spokeswoman Carolyn Normandin.
Ford Motor Co.'s MKZ Hybrid -- a smaller car compared to the LaCrosse -- gets 39 mpg in combined city and highway driving, while the Prius gets 50.
"We're clearly not trying for the largest fuel economy number we can get," Normandin said.
She added that their engineers didn't want to sacrifice performance or quietness for the sake of fuel economy.