GM IPO may leave taxpayers with bailout loss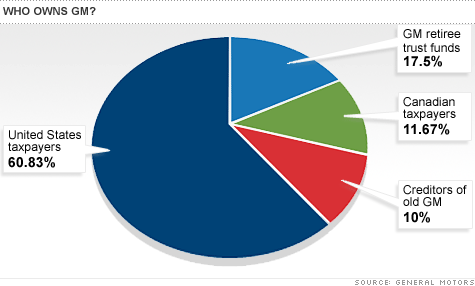 NEW YORK (CNNMoney.com) -- Investors could profit when General Motors starts selling shares to the public Thursday. But U.S. taxpayers, who are the majority shareholders in the automaker, may have a tough time breaking even.

Demand for GM's initial public offering had been so great that Tuesday GM raised its IPO target price to between $32 and $33 a share, from the initial estimate of $26 to $29. Published reports Tuesday evening said GM had also decided to raise the number of common shares it's selling by nearly a third.
A final price is anticipated Wednesday evening, with at least $11.7 billion in common shares expected to trade Thursday, along with another $4 billion in preferred shares.
If the IPO increases along the lines being reported, GM would raise at least $15.3 billion from the sale of common shares, enough to make it the third largest U.S. IPO, according to Renaissance Capital. It would also be the largest since the record $17.9 billion raised by Visa (V, Fortune 500) in March 2008.
The biggest seller of shares will be the U.S. Treasury, which in July 2009 took a 60.8% stake in GM in exchange for $50 billion to keep the company alive through the bankruptcy process. GM has since paid back about $10 billion.
Now, the government is planning to sell about a third of those shares, assuming GM does not increase the size of the offering, netting the government about $5 billion that will be put toward the $40 billion still owed to John Q. Taxpayer.
If the size of the offering is increased, most of the additional shares would come from the Treasury's current holdings. That reduces the taxpayer's risk to a drop in GM shares. But it also gives taxpayers less upside if shares rise in value.
The company and its underwriters are pricing shares low enough to drum up interest from major institutional investors. That means the remaining shares will have to increase by between 56% and 62% after the IPO for taxpayers to break even if GM sticks with the original IPO plans. If it increases the size of the offering, shares would have to rise even more.
Treasury will hold on to about 40% of the company after the initial sale, to avoid flooding the market with too many shares and driving down the price. It's the price of those remaining shares that will ultimately determine whether taxpayers get paid back.
Priced too low?
GM has done well since the bankruptcy, reporting a nearly $2 billion profit in the third quarter. It was GM's biggest quarterly profit in 11 years.
For that reason, GM should have priced its IPO higher, said Kirk Ludtke, senior vice president of CRT Capital Group. He estimates that the shares will be worth about $45 within six months.
But Rebecca Lindland, director of strategic review of IHS Automotive, said that despite the strong demand for GM's IPO, it will take some time to convince investors that auto stocks are a good long-term opportunity. That could limit the upside for shares, she said.
"Companies like GM and Ford (F, Fortune 500) are on the road to recovery, but investors are right to be cautious," she said. "People lost a lot of money in the sector in the past."
Matt Therian, research analyst with Renaissance Capital, said it's important that the IPO price be low enough that institutional investors can make a quick profit on their initial investment. That way they'll be interested when future shares are sold.
"They don't want to end up in a situation where investors who buy into the IPO feel burned if the trading is poor," he said.
Treasury had no comment on the increase in GM's IPO price target Tuesday.
Too many shares?
One reason shares will need to roughly double in price for taxpayers to break even is because Treasury is selling such a large chunk of stock right off the bat -- nearly one third of its shares. A less ambitious offering at the low IPO price might give Treasury a better chance of reaching the breakeven point.
For example, if Treasury had aimed to take its stake down to 49%, rather than 40%, it would have achieved the goal of dumping its majority stake. And with more shares left to sell down the road, it would've needed only an increase of 44% to 49% in share price before the next offering in order to break even.
But defenders of the bailout argue taxpayers are still going to come out ahead on the GM rescue, even if the eventual sales don't recoup the full $50 billion. They argue that there would have been substantial costs to the Federal government in terms of lost tax revenue and pension defaults, as well as broader economic damage, if GM had gone out of business.
"If it ends up costing $10 billion to $20 billion, we will have saved over one million jobs and prevented an economic meltdown," said Steven Rattner, who oversaw the auto industry bailout for Obama administrations, in an interview with CNNMoney earlier this year. "It will be money well spent."