Irish debt talks send Treasuries lower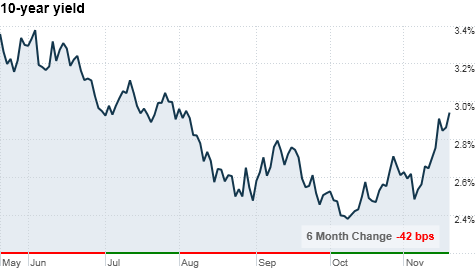 NEW YORK (CNNMoney.com) -- U.S. Treasury prices declined Thursday, as investors digested fresh signals out of Ireland that it may be close to a debt bailout deal.
Both short- and long-term bond prices fell as equity markets ticked higher worldwide, with most indexes rising around 1%.
The retreat came after officials in Dublin signaled that Ireland is open to accepting aid from the International Monetary Fund and European Central Bank to shore up its troubled banking sector.
"The intention is and the expectation is -- on their part, and personally on my part -- that negotiations or discussions will be effective, and a loan will be made available and drawn down as necessary," Patrick Honohan, governor of the Central Bank of Ireland, said in an interview with Irish broadcaster RTE.
That revelation moved stocks across the globe higher, and sent U.S. bond prices lower.
"If these talks reach a successful outcome, the 'flight-to-quality' appeal of U.S. government securities obviously loses some of its luster," wrote Kevin Giddis, president of Fixed Income Capital Markets at Morgan Keegan, in note to clients.
Even without a solid deal in place, the talks are taken as a positive sign and an indication that the worst-case scenario will be avoided, according to David Coard, head of fixed income trading at Williams Capital Group.
Yields: The yield on the benchmark 10-year Treasury notes rose to 2.9%, up from its close of 2.86% on Wednesday. Earlier, the yield rose to 2.95%, close to Monday's close of 2.96% -- the highest yield level since early August.
Yields on the 30-year Treasury bond rose to 4.28%, while the 2-year note ticked up to 0.51%. The 5-year note increased to 1.51%. Treasury prices and yields move in opposite directions.