Stocks finish higher after GM debut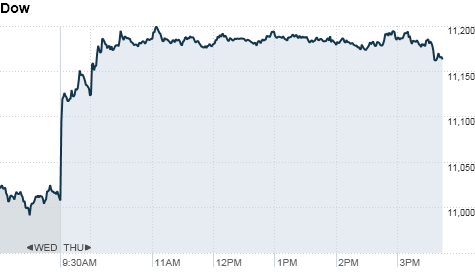 NEW YORK (CNNMoney.com) -- U.S. stocks surged more than 1% Thursday as an early rally gained steam, following a strong debut by General Motors' stock.
Overnight talk that the Irish government was close to accepting a bailout loan eased eurozone worries and sent global stocks soaring. That momentum spilled over to U.S. markets.
The Dow Jones industrial average (INDU) jumped 173 points, or 1.6%. The S&P 500 (SPX) rose 18 points, or 1.5%, and the Nasdaq (COMP) ticked up 38 points, or 1.6%, according to early tallies.
Shares of General Motors (GM) opened at $35 apiece, $2 above the offering price. Trading was very active, with volume topping 452 million shares at the close. That's equivalent to about 10% of the total volume trading on the New York Stock Exchange's Thursday.
The automaker's highly-anticipated initial public offering raised more than $20 billion, making it the largest in U.S. history.
"The GM deal looks like it went well, which shows there's finally some stability and a growing company," said Joseph Saluzzi, co-head of equity trading at Themis Trading. "There was really no question of it not going well, because they had the government behind them, so it's a no brainer for investors -- they're thinking they can get a quick flip here, buying at $33 and selling at $35."
All but one of the Dow's 30 components rose, with Alcoa (AA, Fortune 500), Caterpillar (CAT, Fortune 500) and Boeing (BA, Fortune 500) leading the gains.
"The market is bipolar right now -- one day death is upon us, the next day everybody's jumping in," said Saluzzi. "There's not a lot of conviction overall, but today's one of those 'risk on' days."
After rallying in September and October, stocks have had a rocky November as eurozone worries and uncertainty about the U.S. economy's future have bubbled to the surface.
U.S. stocks ended Wednesday's session mixed, failing to break out of a narrow range as investors digested reports on inflation and the housing market.
A possible solution to the Irish debt crisis pushed European and Asian stocks higher, and those gains carried over into the U.S. market. Britain's FTSE 100 closed 1.3% higher, while Germany's DAX and France's CAC 40 surged 2%.
While Irish government officials had been denying that a loan to contain its growing debt was necessary, the International Monetary Fund and European Central Bank met in Ireland Thursday, and Central Bank of Ireland governor Patrick Honohan said he expects an IMF loan.
Asian markets ended with gains across the board. The Shanghai Composite rose 0.9%, and the Hang Seng in Hong Kong ticked up 1.8%. Japan's Nikkei gained 2.1%, which pushed the index above the 10,000-point threshold for the first time since June.
"The Irish debt situation has been the hot topic, so the news [that Ireland may accept a loan] took off some of the scare and this is a relief rally based on that initial headline," Saluzzi said. "But the issue is far from solved. It's like a bucket with many holes in it -- you plug one hole and water gushes somewhere else.
Economy: Strong U.S. economic data also helped boost markets Thursday.
Before the opening bell, the Labor Department reported the number of people filing for first-time unemployment benefits edged up 2,000 to 439,000 in the latest week.
While the number of claims moved higher, analysts had expected a larger increase of 442,000.
Continuing claims, a measure of Americans who have been receiving benefits for a week or more, slipped to 4,295,000 in the most recent week -- the lowest level in nearly 2 years.
The Philadelphia Federal Reserve index, a regional reading on manufacturing, surged to 22.5 -- up from 1 in October, and much higher than the reading of 5 economists had been expecting.
The Conference Board's index of leading economic indicators jumped 0.5%, after rising 0.5% the previous month. The reading slightly missed the 0.6% rise economists had forecast.
Companies: Staples (SPLS, Fortune 500) reported earnings ahead of the opening bell that were in line with analyst expectations. The office supply chain reported earnings per share of 40 cents, on total company sales of $6.5 billion for the third quarter. Shares of Staples jumped 2%.
Sears Holdings (SHLD, Fortune 500) posted results before the market open that were far worse than analysts expected. The company reported a loss of $1.98 per share, wider than the predicted loss of $1.07 a share. Sears shares slipped 4%.
Dell (DELL, Fortune 500) will release its quarterly results after the close. The PC maker is expected to report earnings of 33 cents per share, up from 23 cents per share a year earlier.
Meanwhile shares of NetApp (NTAP) led a broad tech advance, rising more than 8%. Shares of the data storage company had dropped about 6% Wednesday, after parts of its quarterly report were leaked.
Other big tech gainers included Yahoo (YHOO, Fortune 500), Amazon (AMZN, Fortune 500), Broadcom (BRCM, Fortune 500).
In other corporate news, coal producer Walter Energy (WLT) offered $3.24 billion to buy Western Coal Corp. Shares of Walter Energy edged slightly higher.
Currencies and commodities: The dollar fell against the euro and the British pound, but strengthened against the Japanese yen.
Oil for December delivery gained $1.41, or 1.8%, to $81.85 a barrel.
Gold futures for December delivery rose $16.10 to settle at $1,353 an ounce.
Bonds: The price on the benchmark 10-year U.S. Treasury fell, pushing the yield up to 2.92%.