Hate the Black Friday lines? Score deals online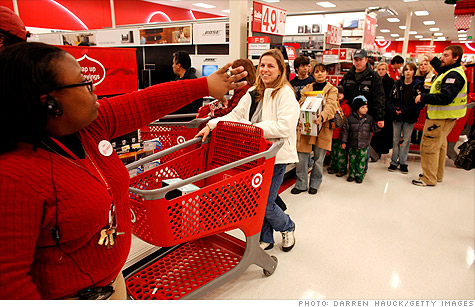 NEW YORK (CNNMoney.com) -- It has become as traditional as turkey, stuffing and pumpkin pie: On the day after Thanksgiving, shoppers bundling up and heading out before dawn for retailer's eagerly awaited Black Friday doorbuster deals.
And after two years of dismal holiday sales, retailers are upping the ante to bring shoppers into the stores this season. This year the National Retail Federation estimates that holiday sales will increase 2.3% to $447.1 billion, much improved from last year's 0.4% uptick and the dismal 3.9% sales decline in 2008.
But for those who don't want to face the stores, don't despair. Many of the doorbuster deals will be available online, too.
"This Black Friday, I would like to stay in the comfort of my bedroom possibly online bargain shopping for maybe a table and some things to decorate my new apartment," said Kaitlynn Blyth, who waited outside last year from 7 p.m. until midnight to get Zhu Zhu pet accessories for her younger sister.
Here's where to score the deals:
Best Buy: The same products promoted in its Thanksgiving Ads -- including doorbusters -- will be available on BestBuy.com starting Thanksgiving Day. Best Buy is also offering free shipping on online orders through Dec. 21, excluding laptops, iPads, iPods and some major appliances.
Macy's: Doorbusters, like a KitchenAid Mixer for $179.99, will also be sold both online and in stores on Black Friday.
Amazon: Here's another reason to avoid the Black Friday stampede: The online retailer is matching other retailer's doorbuster prices. Plus, it's offering free shipping.
Toys R Us: The popular toy store will preview more than 60 "Mystery Deals" on its site starting Tuesday, Nov. 23 at 12:01 a.m. But those savings will only be available in Toys R Us stores from 10 p.m. on Thanksgiving Day until 1 p.m. on Black Friday. The toy retailer will also give out free Crayola 64-Packs and coloring books with any purchase, while supplies last.
Wal-Mart: The country's largest retailer is offering online-only specials on Thanksgiving Day in addition to free online shipping with no minimum purchase. However, the doorbuster deals that shoppers camp out for, like a Nintendo Wii for $199 plus a $50 gift card, will be in-store only starting at 12 a.m. on Nov. 26.
Target: Online-only deals start on Thanksgiving Day before the company's popular two-day sale. But the discounter's doorbuster deals are only available at in stores starting at 4 a.m. on Black Friday. In order to get free shipping on the online orders, consumers must spend $50 or more.
The same is true for Sears and Kmart, where there will be online discounts of 30-40% off on Thanksgiving Day, but the deeper discounts of 50-60% will only be in stores on Black Friday. Web shoppers can then pick up their purchases in stores to save on the shipping.
--Are you a Black Friday shopping fanatic? Tell us what you love -- and hate -- about Black Friday. Email your response to parija.bhatnagar@turner.com and you could be part of an upcoming article. For the CNNMoney.com Comment Policy, click here.