Black Friday 2010: Slashing prices like crazy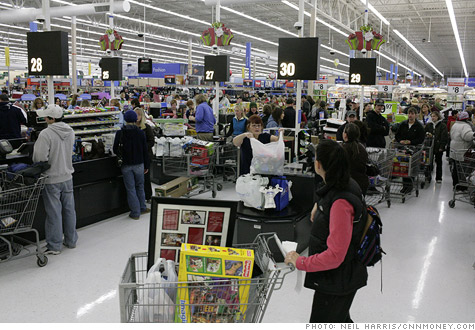 NEW YORK (CNNMoney.com) -- After two-years of belt tightening, consumers are feeling the urge to splurge on this year's hottest holiday deals. Retailers eager to lure shoppers in are slashing prices -- even before Black Friday.
Still, questions remain about whether there's enough pent up demand to help sellers recover from dismal sales.
The day after Thanksgiving, or Black Friday, is considered to be the unofficial start to the November-December holiday shopping season. Those two months can account for 50% or more of merchants' profits and sales for the full year.
Holiday sales are closely watched because they're a pretty accurate barometer of the health of the economy, since consumer spending fuels more than two-thirds of it.
Shop-till-you-drop? Not quite: The National Retail Federation estimates 2010 holiday sales will increase 2.3% to $447.1 billion, much improved from last year's 0.4% uptick and the dismal 3.9% sales decline in 2008.
Monthly retail sales have increased in four of the past five months and same-store sales, or sales at stores open at least a year, have been on the rise for 14 consecutive months.
"Consumers have endured two years of economic body blows, but have been slowly picking themselves off the mat since last year, despite the employment woes," said Craig Johnson, president Customer Growth Partners, a retail consultancy and research firm.
Marshal Cohen, chief retail analyst with market research firm NPD Group, agreed.
"More consumers have reconciled with a 10% unemployment rate," said Cohen. "For the 90% of Americans who still have their jobs, and have weathered the recession, they are not as concerned about their future as they were a year ago."
Who is willing to shop a little more freely? Affluent shoppers, men and "Millennials," or Gen X shoppers, said Candace Corlett, president of retail consulting firm WSL Strategic Retail.
But that optimism is tempered.
"Last year marked the beginning of the shrinking gift list," Cohen said. "If you were a distant relative, you got knocked off the list." That shortened list hasn't grown back this year, he said.
"Consumers are shopping with their brakes on," WSL's Corlett said. "They are sticking to stores they can afford and fit their economic situation."
To that end, millions of shoppers will head to discounters first for Black Friday.
Cut prices, and do it first: Merchants are tripping over each other to ensure they have the best and biggest deals -- and to be first.
Wal-Mart (WMT, Fortune 500), the world's largest retailer, is on a mission to dominate not just Black Friday, but the entire holiday shopping season.
For consumers, it's like hitting the jackpot on holiday deals because Wal-Mart's pricing moves are often matched by its competitors.
The retailer has already slashed prices on holiday favorites such as toys and electronics and is offering free online shipping on 60,000 holiday items.
Other retailers have countered by also offering Black Friday-like deals early. Some sellers, such as Toys R Us and Sears (SHLD, Fortune 500), are even opening their stores to bargain hunters on Thanksgiving this year
"A retailer has to become first in consumers' mind or they will lose the sale," Cohen said.
--Are you a Black Friday shopping fanatic? Tell us what you love -- and hate -- about Black Friday. Email your response to parija.bhatnagar@turner.com and you could be part of an upcoming article. For the CNNMoney.com Comment Policy, click here.