Businessperson of the year? The readers say Ford's Alan Mulally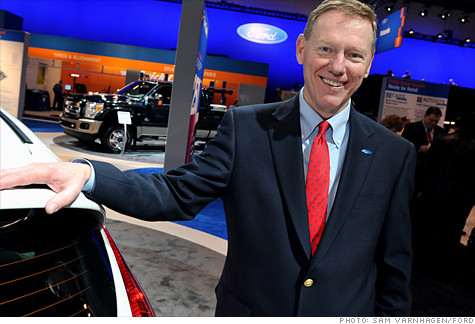 FORTUNE -- The readers have made their choice in our Businessperson of the Year competition, and after a month of rabid online voting, they've given the crown to Alan Mulally, CEO of Ford.
Over the five weeks of the competition, there were a handful of bracket busters. Ratan Tata of the Tata Group overcame Ev Williams of Twitter. Jeff Bezos of Amazon (AMZN, Fortune 500) was knocked off by Ellen Kullman, CEO of DuPont (DD, Fortune 500). But Mulally may have had the hardest road, squaring off against Facebook's Mark Zuckerberg in the first round.
Voters went on to choose the Ford leader over Wal Mart (WMT, Fortune 500) CEO Mike Duke, Kullman, and Berkshire's (BRKA, Fortune 500) Warren Buffet to make the final. And while the climb was tough, the ultimate match was a blowout: Mulally took home 94% of the vote against Apple (AAPL, Fortune 500) titan Steve Jobs. (To see the full brackets, click here. The Reader's Choice competition is just one component of what Fortune is using to decide who will earn the Businessperson of the Year title, to be announced Nov. 18th.)
Alan Mulally has had quite a year. After the company lost $14.6 billion in 2008 and hit an all-time low stock price of $1.80, Mulally, who became CEO in 2006, built the car giant up again, and today the stock hovers at around $16.
Among the auto industry's Big Three, Ford is the only make to have bounced back without the aid of a government bailout. In October, Ad Age named Ford "Marketer of the Year," citing its risky refusal of TARP and clever appointment in 2007 of Jim Farley, formerly of Toyota, to run marketing. Ford has also seen a 17% rise in sales versus the previous year.
Not that business alone pulled Mulally over the top. Ford managed to drum up votes for Mulally at a volume unmatched by even the mythical army of Apple "fanboys." Though Fortune prevented multiple voting from a single IP address, more than 50% of the traffic to the Reader's Choice competition came from users clicking through a link on Ford.com.
Many of those who voted for Mulally took to Twitter (using our hashtag #bpoy) to publicize their decision. "Mulally is my hands-down favorite!" tweeted Steven Johnson (@stevetjohnson). "He has transformed Ford," tweeted Carlos Beltran (@cars_blog) who runs the blog Beltran About Cars.
Others were content to just post in the comments section. "What Mulally did was truly incredible," wrote college student Matt Loson. "My family owns three Fords, and hopefully I can make it 4 with the new Focus, or I might wait for the 2014 Mustang." Steve Nunn, manager of a Ford dealership in Moscow, simply wrote, "Mulally for President!"
One person watching the march through the brackets: Mulally. "That was really fun," he said, reached by phone on Monday. Friends and associates kept him updated him on the contest: "Everybody is so excited -- our suppliers, storeowners, our employees and investors -- because we've created a profitable, growing, exciting automobile company for Americans." Mulally, a one-time competitive tennis player, also took a moment to congratulate those he beat along the way: "Those are tremendous leaders that have created wonderful businesses and services."