HP CEO out of hiding, gives rosy outlook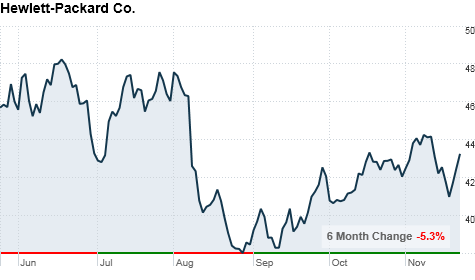 NEW YORK (CNNMoney.com) -- Léo Apotheker, Hewlett-Packard's new chief executive, said Monday that the company had a bright future, so HP will raise spending on research and development as well as its employees' salaries.
In his first appearance since taking over as CEO three weeks ago, Apotheker said he has found from meeting with customers that HP "has an impressive ability to execute," on a conference call with analysts. The company would invest more in itself in the coming months, he added.
R&D was up to 2.4% of the company's revenue in the quarter, up from 2.3% a year ago. "We can expect that trend to continue," Apotheker said.
In the process of cutting costs, former CEO Mark Hurd had slashed R&D spending from 4.1% when he took over in 2005, which was praised by many investors but criticized from some analysts as short-sighted. Hurd boosted HP's profit margins and helped the company weather the recession better than many of its peers, but some argued that it was sacrificing its future for short-term results.
Hurd also instituted a pay freeze in December 2008, a cap that Apotheker said would be lifted in the current fiscal year.
"HP employees are a highly competitive group that want to win, and they are winning," Apotheker said. "They also want to be compensated. That's why were are reinstituting salary increases."
Shareholders had been eager to hear how Apotheker plans on leading the company.
But Apotheker has been difficult to pin down. Software company Oracle (ORCL, Fortune 500), who subsequently hired Hurd after he left HP, said it was unable to locate Apotheker when the company tried to serve him a court summons in its lawsuit against Apotheker's former employer, SAP (SAP).
By the numbers
For the past quarter, HP reported profits, sales and an outlook topped Wall Street's forecasts, on the back of strong PC and server sales.
The Palo Alto, Calif.-based company said net income for the fiscal fourth quarter, ended Oct. 31, rose to $2.5 billion, or $1.10 per share. That's up 5% from a year earlier.
Results included one-time charges totaling 23 cents per share for cost-cutting and acquisitions. Without the charges, HP said it earned $1.33 per share. Analysts polled by Thomson Reuters, who typically exclude one-time items from their estimates, were expecting earnings of $1.27 per share.
Sales rose 8% to $33.3 billion, beating analysts' forecasts of $32.8 billion.
For the current quarter, HP said it expects earnings of between $1.28 and $1.30 per share, excluding charges, on sales of between $32.8 billion to $33 billion. Analysts were predicting $32.7 billion in sales and earnings per share of $1.22.
HP is the world's top PC maker. Its lead in that market has been dwindling somewhat in the past few months, according to IDC, as consumer demand wanes. Last week, rival Dell (DELL, Fortune 500) reported sharply higher sales and earnings on the back of a strong PC refresh cycle for corporations. HP sells a much higher percentage of PCs to consumers than Dell.
Profit soared 23% in HP's PC business, even though revenue was up 4% and unit sales were up just 2%.
Shares of HP (HPQ, Fortune 500) rose 2% after hours.
HP's stock is down 16% for the year, getting slammed since former CEO Mark Hurd resigned amid a scandal in August.