Fiat hopes its 500 becomes a Chrysler Mini Cooper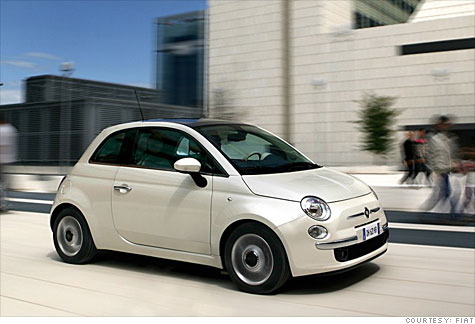 FORTUNE -- Fiat chief Sergio Marchionne is filching a page from BMW's playbook with the perky Fiat 500, a diminutive machine that makes no more sense for mainstream American drivers than Mini, a car that nevertheless overcame long odds by dint of clever marketing.
With production set to start at an assembly plant in Toluca, Mexico next month, the 500 should begin appearing at Fiat dealers in the U.S. sometime in January or February. Fiat has said, optimistically, that it hopes to sell 50,000 annually.
What's that, you say? You've never seen a Fiat dealership -- well, that's because Fiat hasn't sold cars in the U.S. since 1983. Marchionne only appointed 130 U.S. dealers and 58 in Canada earlier this month. The 500, which starts at under $16,000 and has little potential as a moneymaker, is Fiat's chance to re-establish its brand and franchise in North America.
A continent away in Italy, Fiat SpA bankers are preparing to spin off Fiat Auto operations as a separate company. Investors have long complained that the low returns of Fiat's automotive operations depressed the overall profitability of the mother company. Marchionne's grand strategy is to use Fiat's 20 percent stake in a restructured Chrysler, which the U.S. gave Fiat gratis, as a springboard to sell Fiat cars again in North America.
A sliver of the American driving public has always displayed stubborn affection for pint-sized, fuel-sipping European cars. The VW bug, Renault's Dauphine, even the miserable Yugo (a Fiat design), Smart -- all have made their mark. The category tends to fare best when gasoline is expensive. So far Chrysler/Fiat won't say anything about its fuel efficiency.
Mini took off due to a worldwide guerilla marketing campaign that eschewed the typical media blitz and relied heavily on stunts and viral advertising. In fact BMW hired a firm in the U.K. by the name of Cunning Stunts, which once grabbed attention for a television personality by projecting her naked image on the House of Commons. In the U.S., Crispin Porter + Bogusky dreamed up, among other techniques, the idea of putting a Mini on top of a Ford Expedition and driving it around major cities.
Similar cleverness probably is necessary, may be in the offing, for 500. Chrysler won't say officially, but it appears to have hired an agency in Southfield, Michigan known as Impatto. Impatto's website is under construction.
While Mini burst onto the world scene with an all-new vehicle, the 500 in its current form has been sold mostly in Europe and Latin America since 2007. The U.S. version will feature a new six-speed transmission that can be used in auto or manual mode, with a 1.4-liter engine using what Fiat calls "multi-air" technology, which refers to the timing of air intake through the valves on each individual cylinder.
Like Mini, buyers will be able to customize their vehicles with various color patterns, decals (such as the Italian flag), wheels, key fob, seats -- the goal being to increase the selling price of the 500 to $20,000 or above.
To this writer's eye the 500's rounded appearance looks woefully plain. But, that certainly doesn't mean that more than a few drivers, maybe even some young and hip ones, might find themselves smitten.