Best LCD TV deals to come after Black Friday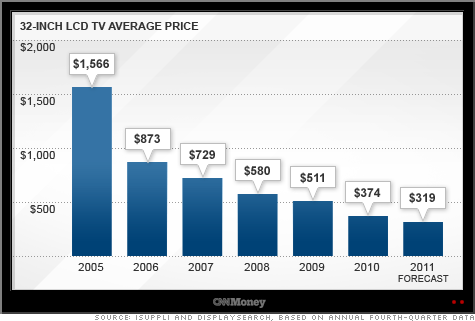 NEW YORK (CNNMoney.com) -- Ultra-low prices for flat screen LCD TVs are typical for Black Friday. But this year, the best deals are expected to come even later in the holiday season and into early 2011.
The average price for a 42-inch LCD TV is forecast to be $626 this quarter, but the price is expected to fall below $600 in the beginning of next year before rising again, according to NPD Group. Prices for 52-inch LCD TVs are expected to drop by $120 on average during the same time period.
"The prices out there now are very aggressive and attractive, but there will be fire sale-like prices on Black Friday and even further price reductions after Black Friday," said Riddhi Patel, director of television systems and retail services at iSuppli Corp. "The TV market has slowed down, and there's no indication of it turning around."
America is an "LCD TV recession," with sales falling for six months in a row, said Brian White, analyst at Ticonderoga Securities.
Experts say the lack of demand for LCD TVs is due in part to a high rate of penetration of flat screen TVs in homes. About 56% of U.S. households already have an HDTV, according to Yankee Group.
Sales soared in previous years as people swapped out their old standard-definition tubes for flat screen HDTVs. Even during the economic downturn in 2008 and 2009, flat screens remained a hot buy, with double digit sales growth during the past two holiday seasons, NPD Group found. But now that most Americans own an LCD TV, there's less incentive to purchase them.
Also, new TV offerings haven't given consumers much reason to buy one. Internet-connected TVs and 3D TVs are expensive, difficult to use and require awkward accessories like keyboard-remotes or 3D glasses. Backlit LED TVs are thinner with a crisper picture, but they're not so much of an improvement that consumers who just bought an LCD TV will be willing to upgrade quite yet.
Despite slumping sales, prices have hardly budged this year, and cash-strapped consumers have been holding out for costs to drop.
The scales finally tipped in the buyer's favor in October, with prices falling significantly -- 7% -- for the first time in 2010, NPD said. That is expected to become a trend, with great deals advertised for Black Friday.
But experts don't think LCD TVs will fly off the shelves as a result of good Black Friday deals. LCD TVs only landed at No. 7 on the Consumer Electronics Association's survey of top wish-list gadgets for the holidays, down from No. 3 last year. Ahead of HDTVs are multi-function items like laptops (No. 1), iPads (No. 2), e-readers (No. 3) and video game systems (No. 5).
"The iPad is going to eat into a lot of discretionary spending during the holidays," said White. "People only have so much to spend, and they just don't want to buy TVs."
That could lead to a glut of unsold TVs, which could lead retailers and manufacturers to slash prices to clear out old products.
"Inventory pressures are building up throughout the supply chain," said Paul Semenza, senior vice president of NPD Group's DisplaySearch. "We'll start to see even more aggressive pricing in a second wave later in the holiday season."
So if you'd rather let the turkey, stuffing and pumpkin pie digest instead of camping outside the mall at 4 a.m. on Black Friday, not to worry. You'll have ample opportunity to take advantage of great deals on LCD TVs down the road.
It'll probably end up saving you money.