Black Friday: More shoppers, modest sales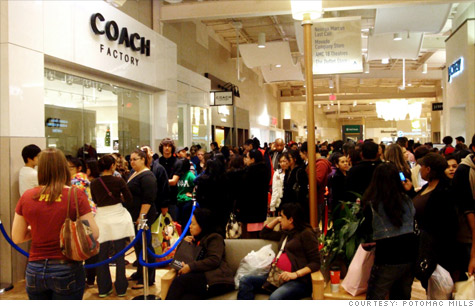 NEW YORK (CNNMoney.com) -- Preliminary reports of sales on Black Friday weekend are coming in.
The verdict so far: The crowds were bigger. People walked away with arms full of goodies. And shoppers spent modestly more, although sales may have been stronger online and in the days surrounding Friday.
With shoppers scooping up discounted items, total sales on Friday rose a slight 0.3% over last year to $10.7 billion, while customer traffic increased 2.2%, according to ShopperTrak, which records sales and customer traffic at more than 70,000 stores and malls.
Stores may have cannibalized some Black Friday sales by prodding shoppers with doorbuster-like deals weeks in advance, said ShopperTrak founder Bill Martin.
Indeed, in the first two weeks of November, sales were up 6.1% and 6.2%, according to ShopperTrak.
"Retailers were very conscious of driving traffic early in November, and in doing so some might have thinned Black Friday spending a bit," Martin said in a statement.
The retailers were more bullish about sales over the whole four-day weekend.
The National Retail Federation issued a report Sunday saying that 212 million shoppers visited stores and websites over the four days, up from 195 million last year. The NRF data are based on a survey of 4,306 consumers.
Overall, NRF said, shoppers will have plunked down $45 billion over the four days, up from $41.2 billion last year.
A separate survey found that shoppers bought more goods on Black Friday. The number of purchases were 4% higher than last year, according to market research firm NPD Group.
NPD also found that 33% of consumers bought items for themselves -- a good sign that Americans are feeling more comfortable about spending.
Marshal Cohen, chief retail analyst at NPD, said "it is an encouraging start" for stores.
"But it's important to remember that the weekend accounts for just 25% of total holiday sales," Cohen said. "So we're done with one quarter, but they still have three more quarters to go."
The NPD survey was conducted online on Friday and Saturday and polled 1,768 consumers.
Buying more online: Online sales were strong on Thanksgiving day and Black Friday, according to a report Sunday from ComScore, a digital marketplace research firm.
On Thursday, sales jumped 28% over last Thanksgiving day to $407 million. On Black Friday, online sales rose 9% to $648 million -- making it the heaviest day of online spending so far in 2010.
Amazon.com was the most visited site; its traffic went up 25% from a year ago. The next three were the Web sites of Wal-Mart, Target and Best Buy.
To be sure, there's plenty of holiday shopping left. Overall holiday sales in November and December are forecast to increase 2.3% this year, according to the retail federation. That would be an improvement from last year's anemic 0.4% holiday sales gain and a dismal 3.9% sales decline in 2008.
For its part, ShopperTrak predicts spending holiday season sales will rise 3.2% even though it found less-than-robust Black Friday only results.