Black Friday deals to draw 138 million shoppers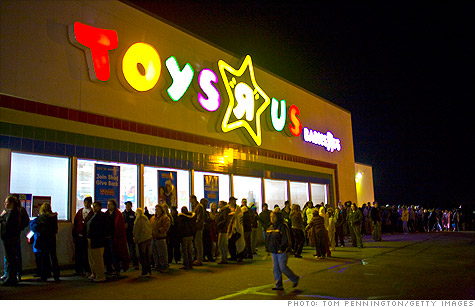 NEW YORK (CNNMoney.com) -- Black Friday bargains are expected to attract 138 million shoppers to stores this year, up 3% from last year, an industry report said Thursday.
Retailers, anxious to jumpstart the shopping bonanza, are opening stores extra early. For the first time, Sears (SHLD, Fortune 500) and Toys R Us are opening their stores nationwide on Thanksgiving night.
Extra deep discounts and free online shipping offers from Wal-Mart (WMT, Fortune 500), Target (TGT, Fortune 500), Best Buy (BBY, Fortune 500) and other sellers have also rejuvenated consumers' interest in the annual kickoff to the holiday shopping season after a two year slump.
Black Friday 2010: Slashing prices like crazy
The National Retail Federation estimates 138 million people will shop during the Black Friday weekend (Friday, Saturday and Sunday after Thanksgiving), up from an estimated 134 million people last year.
"The rules for Black Friday have changed significantly," NRF President Matthew Shay, said in a statement.
"Instead of waiting until Thanksgiving Day to announce their promotions, retailers are getting shoppers excited about Black Friday by offering sneak peeks of deals in advance, using social media to create buzz, and teasing upcoming deals on their web sites," he said.
A survey showed that many more retailers are turning to Facebook and Twitter to promote this year's Black Friday deals.
The NRF 2010 Holiday Consumer Intentions and Actions Survey polled 8,778 consumers from Nov. 3 to Nov. 9, 2010. The survey has a margin of error of plus or minus 1%.
---Are you a Black Friday shopping fanatic? Tell us what you love -- and hate -- about Black Friday. Email your response to parija.bhatnagar@turner.com and you could be part of an upcoming article. For the CNNMoney.com Comment Policy, click here.